Sowing Seeds of Hope in Nicaragua
A dear colleague who served in Nicaragua reminded us how Central Americans cherish that country as a "land of lakes and volcanoes." He also mentioned the memory of its triumph against a dictatorship and military regime that plagued the country for more than 40 years. Today, Nicaragua faces another struggle that puts them in a difficult spot.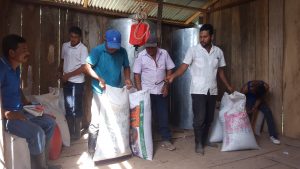 After the passing of Hurricanes ETA and Iota, Nicaragua lost most of its crops and ways of life for thousands of peasants. The World Food Programme defined Nicaragua as a low-income, food-deficit country and one of the poorest in Latin America. Agriculture, the primary economic activity, engages almost 70 percent of the population and contributes to 20 percent of the country's GDP. Food insecurity is closely linked with poverty, the effects of climate change, and natural disasters. Almost 30 percent of the families in the country live in poverty, and over 8 percent struggle in extreme poverty, surviving on less than US$ 1.25 daily. Some 17 percent of children aged under five suffer from chronic malnutrition, with peaks of between 28 and 29.5 percent in the departments of Nueva Segovia, Madriz, and Jinotega. WFP studies have shown that stunting – below-average height caused by chronic malnutrition – among children under three in areas targeted by WFP for assistance is higher than the national average.
The Association Christian Mission Church of Nicaragua ("Misión Cristiana de Nicaragua" or MCN), one of Global Ministries' Partners in the country, continues sowing seeds of hope spiritually and literally in the country. The Church develops a food and nutrition security program through the physical construction and maintenance of seed banks across Nicaragua. With these seed banks, basic food can be guaranteed to many communities even during periods of drought. In addition to the seed banks, the Christian Mission provided over 300 families across Nicaragua with maize and sorghum seeds.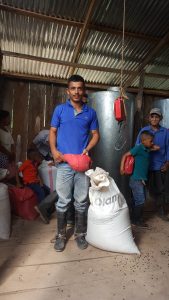 During recent months, MCN opened two new seed banks in Las Barandas and Aguas Calientes communities in the Northern region of the country. Those seed banks are intended to provide food security for the communities. They could also deliver beans seeds to 32 families for the "postrera" ("latter") and apante cycles, Phase 2 (from July to November) and Phase 3 (From November to January) of the actual agrarian cycle in Nicaragua. That endeavor by MCN is crucial for the livelihoods of Nicaraguan families. Despite current humanitarian assistance efforts, many of the households directly impacted by hurricanes Eta and Iota in the urban and rural areas of Honduras and Nicaragua could be in crisis. That is due to limited access and food availability due to crop failure and lower demand for labor. (More information)
Two peasants share their testimonies of the work of MCN and its solidarity through the seed banks. Orlando Castro from the Aguas Calientes Community said that "the seed bank was of great benefit for us. Before receiving this from the Church, families had to go individually to get loans with very high-interest rates. The good thing is that this could benefit the community as a whole. In addition, this benefit was given to us for our care and work to guarantee that our crops will have the best quality possible. In the same way, Nelson Rugama from the community of Las Barandas said the following: "With this project, the community of Barandas was benefited. We are mostly low-income families. Thanks to this project, we didn't have to buy the seeds. The food and the means of us, bean-producing families, will be guaranteed.
Nicaragua continues walking, sowing seeds of hope as we are confident that a harvest is appointed in the process of restoring the fortunes of the people of that nation. (Hosea 6:11)
Learn more about the Christian Mission of Nicaragua Environmental Projects here.