World Toilet Day – November 19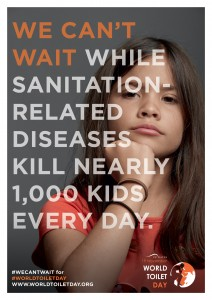 #WECANTWAIT
Did you know that more people in the world have a cellphone than have a toilet? Sanitation is a global development priority. This is why the United Nations General Assembly designated 19 November as World Toilet Day. This day had previously been marked by international and civil society organizations all over the world but was was not formally recognized as an official UN day until 2013.
How are Sanitation and Nutrition Related?
For many people the lack of access to improved sanitation means an increased risk of chronic diarrhea and intestinal diseases, which in turn leads to under-nutrition. Long-term malnutrition contributes to stunting in physical growth and brain development. In contrast, when communities have access to toilets and improved sanitation, the incidence of poor nutrition decreases and community health improves!
Find more information
Global Ministries Project – LECSA Schools Commodes
When Nature Calls – East Timor
Toilets in Sorolua – East Timor
UN World Toilet Day
World Toilet Day | Water.org
We Can't Wait: A Report on Sanitation and Hygiene for Women and Girls
Equality, Dignity…and Toilets?
A webinar organized by the World Council of Churches Ecumenical Water Network and Norwegian…
Read More