Global Ministries Mission Dash 5K: Climate Justice
When you choose to Dash – you are joining a life-giving community that is responding in bold ways to the challenges of climate change and the thousands working globally to provide meaningful care for the earth's resources.
This year, proceeds from the Mission Dash Virtual 5k will support climate justice projects that are led by the partners and communities being served across the globe. Join us! We hope through your participation, you (and your friends) can experience the hope and inter-connectedness of the global community who is working hard to make climate justice a reality. 
"God has told you, O mortal, what is good; and what does God require of you but to do justice, and to love kindness, and to walk humbly with your God?"

Micah 6:8
Join Global Ministries for a 5K for climate justice!
The theme for the Mission Dash 5K is climate justice. Creation care efforts by international partners evolve with each natural disaster and shift in weather patterns. Partners cope with the negative impacts of climate change by protecting and nurturing the natural world, preserving resources, and seeking to ensure food security.
You are encouraged to walk, roll, run, jog, or spiritually sprint wherever you are! You may choose to do the 5K with neighbors, friends, family, church, or on your own. The cost is $25 per person, and each registrant will receive a collapsible water bottle and magnet.
Throughout the 5K month of August, there will be opportunities to participate in advocacy actions in solidarity with international partners. Part of the registration fee will also support the work of international partners in their climate justice efforts and additional fundraising opportunities are available. Learn more about how to create a Mission Dash Team/Group, how to start a Fundraiser, or give directly to support climate justice projects. Top individual and team fundraisers for Mission Dash will win prizes!
Registrants may do the 5K anytime between August 1 and August 31, 2022.
Make plans to join us today!
---
Read stories and examples of individuals and communities taking action for climate justice and learn more about the current Global Ministries projects addressing climate change
Browse a collection of global resources for engagement on addressing climate change
In addition to signing up and planning out your Dash, here are a few additional ways you can make a big difference in our shared climate justice efforts AND win prizes.
Take Action!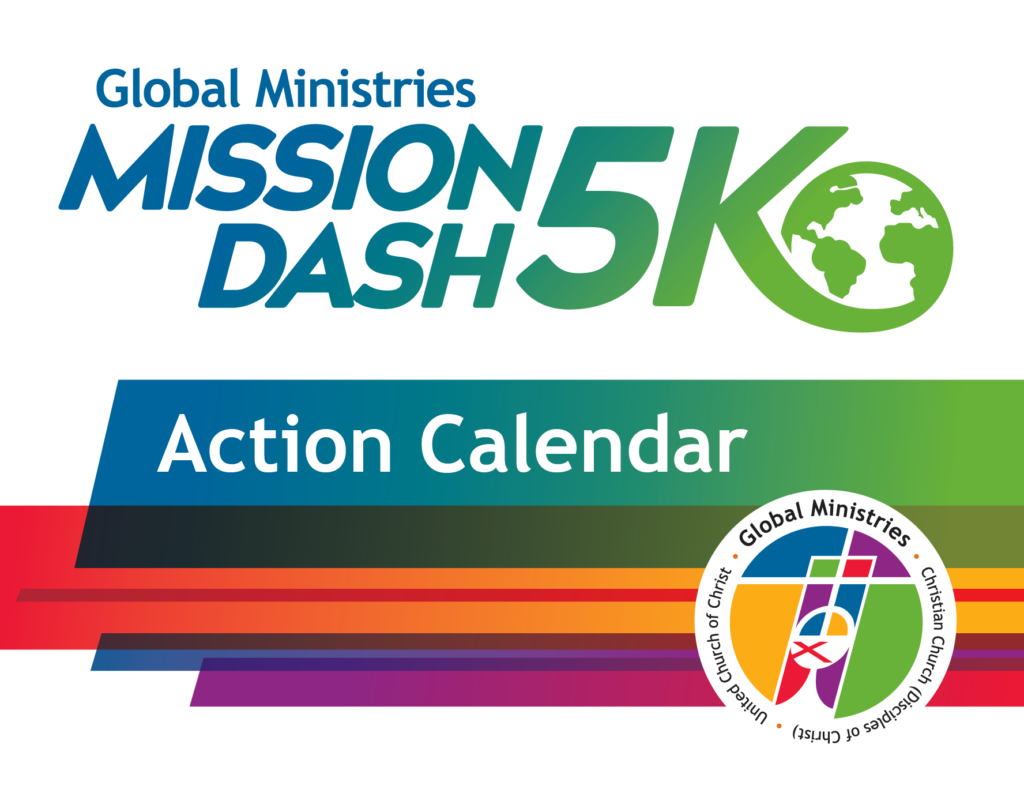 Global Ministries invites you to join in our Mission Dash Virtual 5K by not only running, walking, rolling, jogging, or spiritually sprinting, but also by taking daily advocacy actions in solidarity with international partners. Some of these actions are things you can do as an individual to care for creation, while some are actions you can do to change the larger systems in place in your community, our country, and the world. These daily actions are just a few ways you can respond to God's call to care for creation. We encourage you to do what you can and try to make them habits that last after the end of August and the Mission Dash. Download the calendar
---
Create or Join a Team
By participating as a part of team, you can share ideas for motivation, take advocacy actions together, and to come up with creative ways to make this MissionDash a meaningful expression of your shared care for climate justice. Whether you are a team because of a shared geographical location or another bonding factor – your combined efforts will have a lasting impact of support for partners who are facing new realities brought on by a changing climate.
How do you create or join a team? Once you are signed up personally for the MissionDash: Virtual 5k, click on the GROUP/TEAMS tab at the top. Check to make sure your team is not already created, if so, click on "Join" under Group name. If you are setting up a new team, click on the "Create a Group/Team" toward the top right of the page and follow the prompts. If you still have questions, give us a call at 317-713-2555.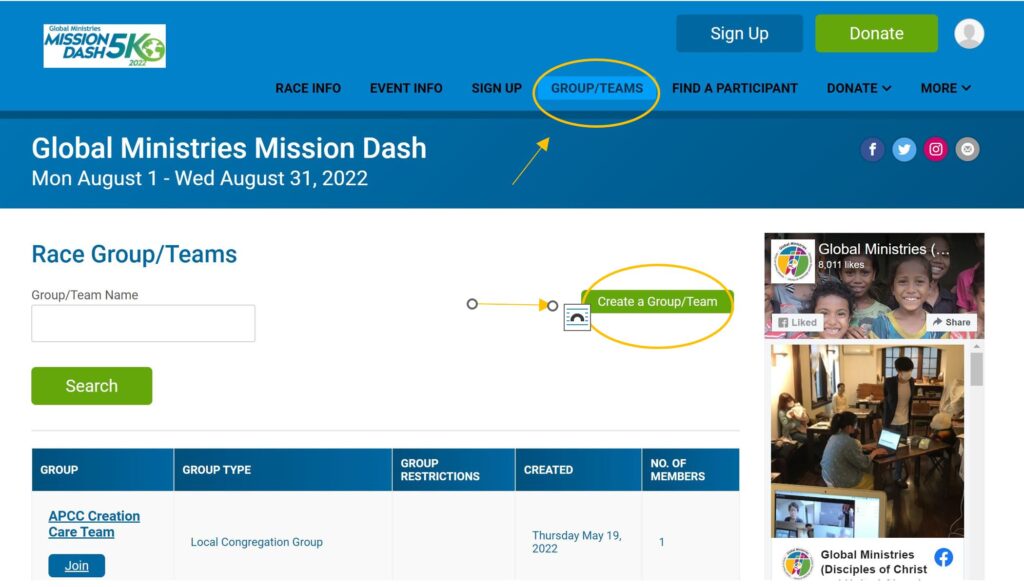 ---
---
Start a Fundraiser
Looking for a way to have fun, raise funds, and help support ongoing and new efforts in addressing climate change around the world? Start a fundraiser! Giving is a meaningful way to feel more connected to the work of global partners and it is a special way to live out personal values. You can help others participate in this meaningful action and support global partners who are caring for creation today! On top of that, there will be prizes for the top three individual fundraisers and the top three team fundraisers. More details on prizes here!
For the Global Ministries MissionDash, you can fundraise as an individual or as a team. Here's how you can get started:
Create and personalize your page.

Individual Fundraisers: Once you register for the race, a personal fundraising page is automatically set up for you. To update and personalize your fundraising page, including a place to write your own personal story or motivation and set your own fundraising goal, click on your picture at the top right corner and click on "PROFILE". In the middle of the page, under a heading titled "Fundraising", go to "Edit Fundraiser" to start personalizing your fundraising efforts.

Team Fundraisers: To join a team fundraiser, go to "Donate" on the top menu bar of the registration page and click on "Become a fundraiser". In the second section, titled "Team Fundraiser", search for a team fundraiser that already exists, and you would like to join. To set up a new team fundraiser, click on "(New Team Fundraiser)" in the drop-down field and fill out the name, goal, and personal message!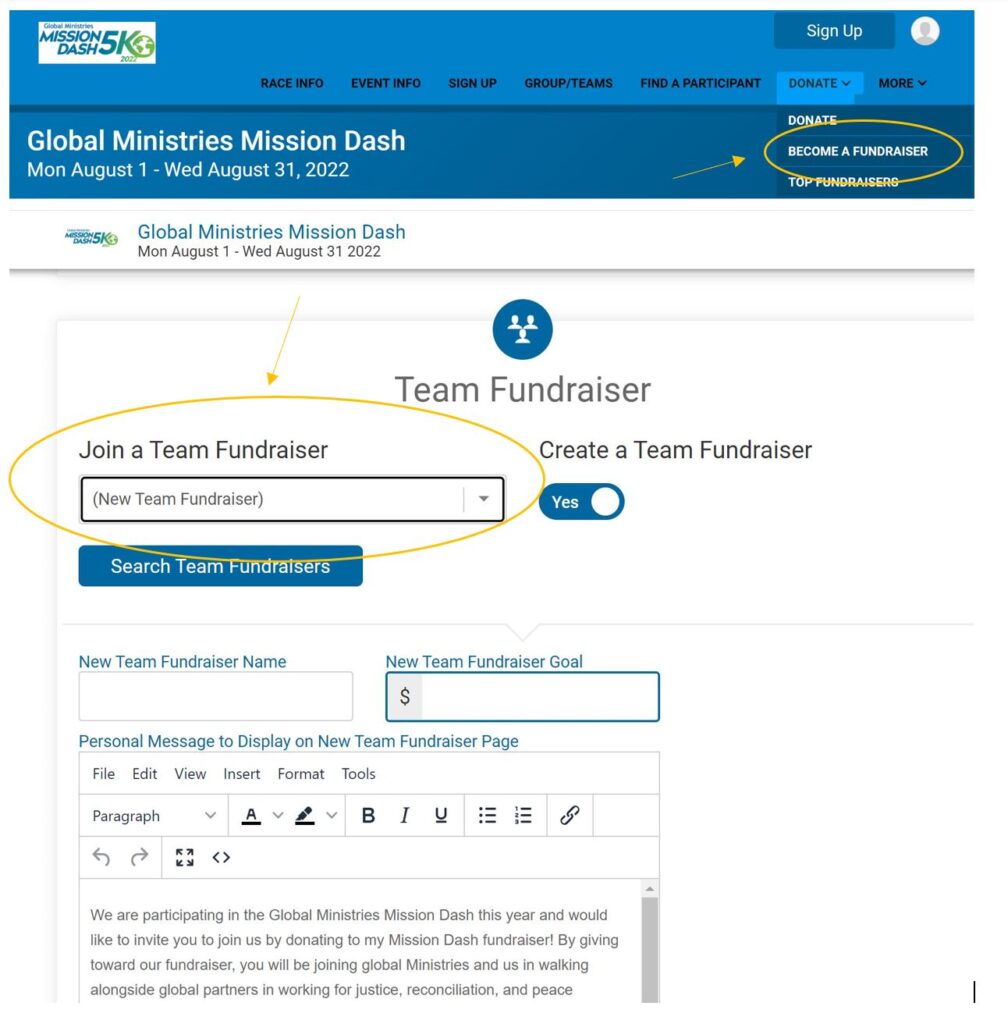 Share your goal. Spread the message with your friends and family, then link to your fundraising page for where to give.
Give together and create lasting change in the shared efforts to address climate change. The funds you raise will help create a more sustainable future for communities around the world!
Donate
If you would like to give personally, you are welcome to donate directly or to an individual or team fundraiser here!
Prizes for Top Fundraisers
One of the primary goals of the Mission Dash is to provide support for partners who are working to bring climate justice to their communities. Your help in raising funds for the life-giving work of partners will help us reach this goal! As a way to express our thanks to you for your incredible efforts, we are providing prizes for the top individual and team fundraisers.
Take a look at what you could win!
Individuals
First Place
Global Ministries Mission Dash T-Shirt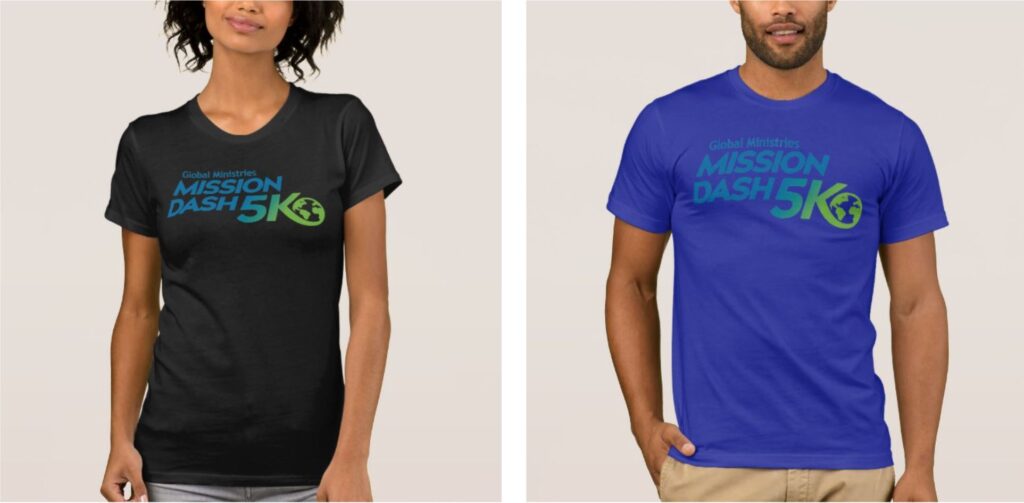 Second Place
Global craft of your choice from Global Ministries partner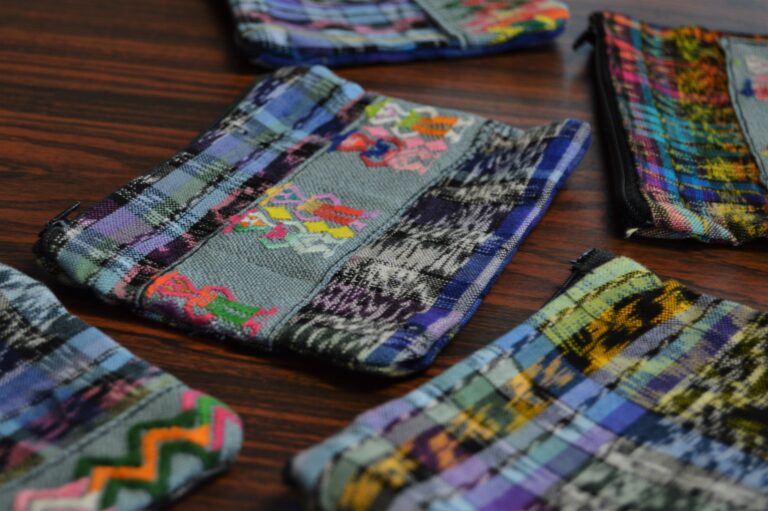 Third Place
Coffee or chocolate from Equal Exchange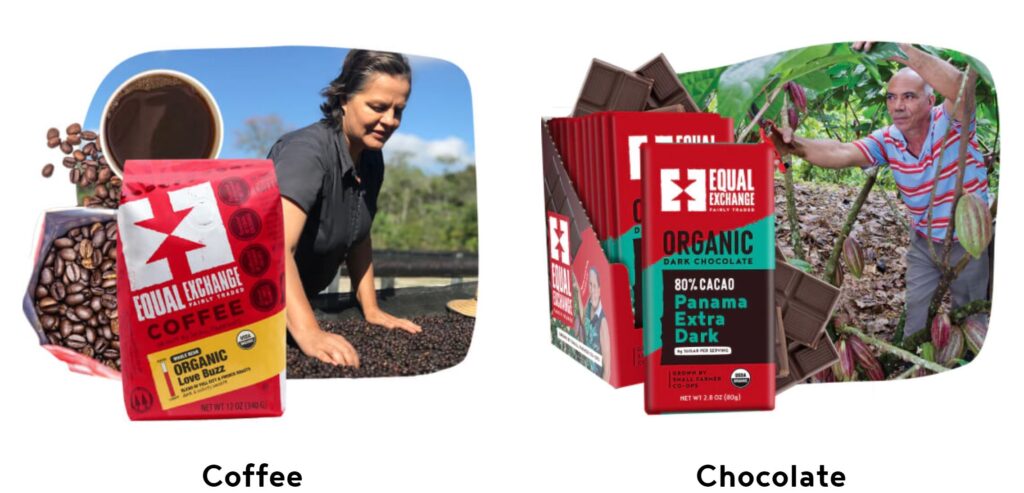 Teams/Groups
First Place
Olive Tree planted in your team's name through the Keep Hope Alive! project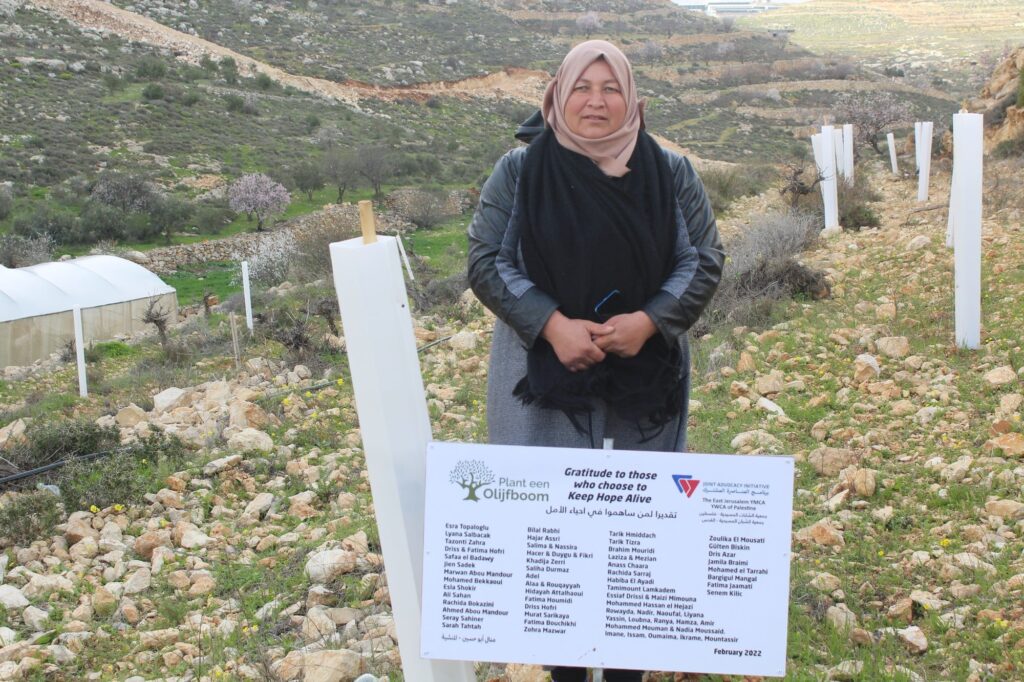 Second Place and Third Place
Coffee or chocolate from Equal Exchange sent to all in the group