Join the No Dough for the Occupation Campaign
Want an alternative bread you can make to replace your savory Pillsbury products? The YWCA in Palestine has a food production project in Jericho that is a cooperative bakery. One of their participants shares a video of how to make manakeesh flatbread.
June 2022 Update – General Mills has announced its divestment from its Israeli business. As such we are ending our call to boycott Pillsbury products. This victory shows that public pressure works, even on the largest of corporations. Thank you! Read an op-ed from Charlie Pillsbury, a UCC member and descendant of the founder of Pillsbury, thanking General Mills for its divestment.
---
Pillsbury, owned by food-manufacturing-conglomerate General Mills, is known for its cookie dough, cinnamon buns, and other sweet treats. But Pillsbury produces frozen baked goods in a factory in the Atarot Industrial Zone, an illegal Israeli settlement in East Jerusalem. This zone violates international law by exploiting land, water, and other resources that were captured by force from their legal Palestinian owners. This means that General Mills is directly profiting from the illegal occupation of Palestinian territory. In fact, in a recent report, the U.N. High Commissioner for Human Rights highlighted General Mills as one of seven American companies involved in Israel's illegal settlement activities.
For more than 50 years, Israel has denied Palestinians in the occupied Palestinian territories their basic civil, political, and human rights. By building hundreds of Israeli residential developments throughout occupied land and moving hundreds of thousands of Israeli citizens to those settlements, Israel has created a system where these settlers have full rights and freedoms—at the expense of the indigenous Palestinian population living around them.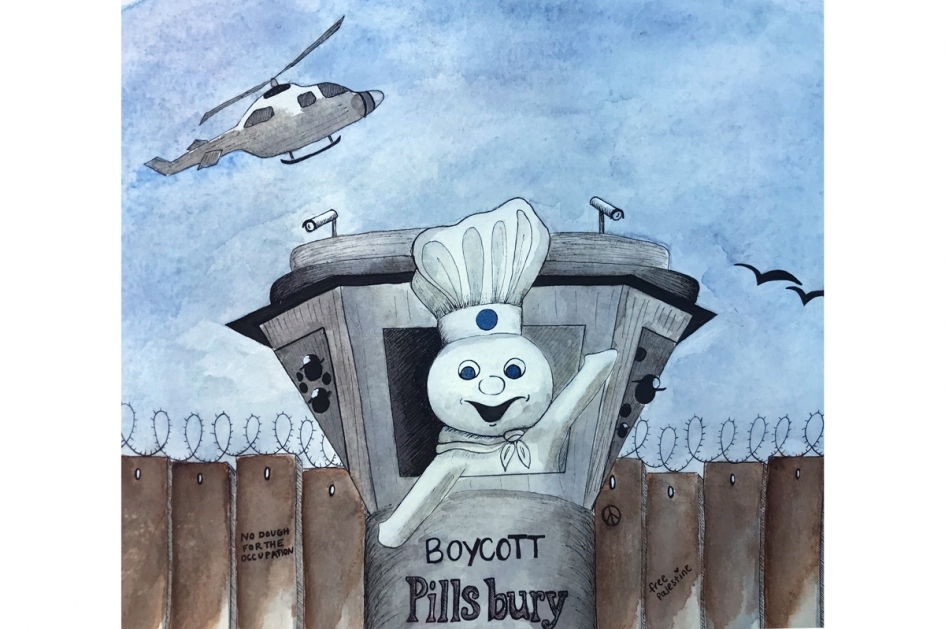 Illegal under international law, these settlements are built on confiscated Palestinian land and have been used to justify forcing Palestinians out of their homes, restricting their movement, severely limiting Palestinian access to basic resources, including land and water, and perpetuating a system of segregation and inequality between Palestinians and Israelis.
Companies doing business in illegal settlement industrial zones exploit this injustice for profit. Some of them enjoy cheap land and cheap labor; some enjoy lax regulations and environmental protection standards. Without exception, all these companies directly contribute to the settlement economy and help perpetuate this system of control and expropriation in denial of Palestinians' basic rights.
Today, more than ever, we need to demand an end to this illegal, immoral, and dangerous exploitative system of occupation. Just recently, the Israeli government, with support from the U.S. government, threatened to annex more portions of the occupied West Bank, in addition to the already-annexed East Jerusalem. Annexation is formalized land theft, and a further violation of international law.
In 2015, the United Church of Christ adopted a resolution entitled "A Call for the United Church of Christ to Take Actions Toward A Just Peace in the Israeli-Palestinian Conflict." This resolution called upon members of the UCC to "boycott goods identified as being produced in or using the facilities of illegal settlements located in the occupied Palestinian territories." As part of that call, we are now encouraging a boycott of Pillsbury products and we have previously encouraged boycotts of PayPal and HP.
General Mills' own policy on human rights reads, "We believe that societies, economies and businesses thrive when human rights are protected and respected." We couldn't agree more. Boycott Pillsbury products until the company stops doing business in illegal settlements.
Ainsworth United Church of Christ of Portland, Oregon pledged to be a Pillsbury-Free-Church in 2021. Read more about their decision.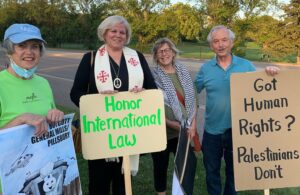 Minnesota Conference Minister, Rev. Shari Prestemon (photo to right, second from left), read this statement on behalf of the UCC outside General Mills headquarters in Minneapolis during their September 2021 shareholder meeting.
UCC member Charlie Pillsbury sat for an interview with AJ+ about why he wants people to join the boycott of the company started by his ancestor.