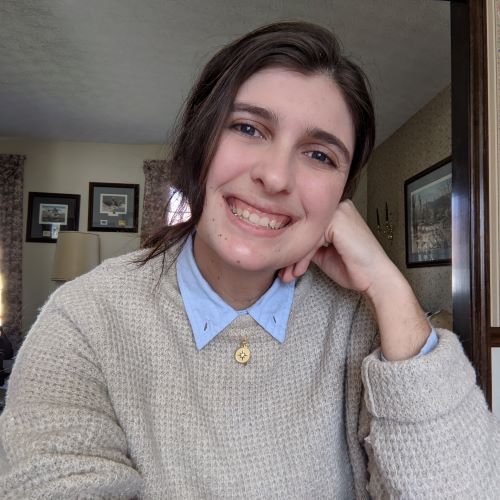 Abigail Reed serves with the Presbyterian Church in the Republic of Korea (PROK)
Abigail's appointment with Presbyterian Church in the Republic of Korea (PROK) is made possible by your gifts to Disciples Mission Fund, Our Church's Wider Mission, Week of Compassion, and special gifts.
Name: Abigail Reed
Serving with: PROK at Yangmuri Church in Haenam, South Korea
Describe the mission of our partner where you serve.
The Presbyterian Church in the Republic of Korea (PROK) is one of the smaller of the ecumenical
Reformed denominations in South Korea. It is a close partner with Global Ministries, and is very active in
clergy and mission exchanges with many Disciples and UCC congregations, seminaries, and middle
judicatories, and with Korean-American constituencies through North American Pacific Asian Disciples
(NAPAD) and UCC Pacific Islander and Asian-American Ministry (PAAM) in particular. The PROK is a
progressive denomination, bearing witness to a number of peace and justice concerns within the
Church, in Korean society and on the Peninsula, and globally.[1]
In Haenam, Yangmuri Church works through the Reading Star program with a focus on teaching English through reading books. In South Korea, and more specifically in cities such as Haenam, there is a current cycle of 'rich stay rich,' and 'poor stay poor.' Through this program, Reading Star is hoping to give the youth different opportunities in their future. Reading books helps to improve their knowledge, while allowing them to expand their thoughts both spiritually and educationally. The underlying aim is to empower the youth through faith while using English. The English program focuses on faith practices and character building. Their belief follows that of Hebrews 11:1 (NIV), "Now faith is confidence in what we hope for and assurance about what we do." When having faith in God, you also have more faith in yourself and being able to accomplish the unthinkable.
What is your role in their mission?
I currently teach in the English Education ministry at Yangmuri Church in Haenam while secondarily offering support to the PROK Ecumenical office in Seoul. At Yangmuri Church I am assisting Reverend Cheon Min Heui and Teacher Crystal educate children in kindergarten up to high school, with special focus on the younger age groups. The church's english program is run through the organization Reading Star.
What led you to want to serve?
Growing up in the church allowed me to have opportunities to expand my thoughts and find the path I wished to take in life. It wasn't until university however, that I knew I was meant to work with and for others. During my four years at university I realized the different ways in which faith works through everyone. Some go to church, some read the bible, and some volunteer their time to give back to the community. For me, I learned that it's the latter. Personally, I believe that God works through actions of his followers as opposed to just words. To go even further, I believe the church should be an ally to those they are working alongside, not the end all be all solution. Just as Jesus accepted everyone and strived to make the world a better place, the Church should also. I felt led to serve after considering all of these things. I wanted to continue working alongside others who were also on this journey of showing God's love and peace to others.
Is there a passage of scripture that carries special meaning in your daily work?
Ephesians 3: 16-19 NIV "16 I pray that out of his glorious riches he may strengthen you with power through his Spirit in your inner being,17 so that Christ may dwell in your hearts through faith. And I pray that you, being rooted and established in love, 18 may have power, together with all the Lord's holy people, to grasp how wide and long and high and deep is the love of Christ, 19 and to know this love that surpasses knowledge—that you may be filled to the measure of all the fullness of God."
This was the scripture reading at my first service here in Haenam and it resonated with me. To me, this passage of scripture is telling us that the love of God emcompasses everything around us and that we should strive to live in his image every day (i.e. doing as he would do). When thinking of this verse, I am constantly reminding myself who Jesus truly was: a person who stood against oppressors and fought for an equitable, and just future for all.
What are some of the challenges facing the people where you serve or our partner?
There are two main challenges facing the people where I serve: unemployment numbers and COVID-19. Currently unemployment is very high in South Korea, similar to the United States. These numbers however have been a source of motivation for the Reading Star program at Yangmuri. Learning English allows for more job opportunities to open up for youth living in smaller cities, such as Haenam. More job opportunities allow for a higher probability of becoming financially independent and confident in the future. COVID-19 has been active in South Korea since early 2020, and only just recently has the country been able to offer the vaccine to the general population. When COVID-19 first began, Sunday school classes had to be cancelled. This caused numbers in church attendance to decline, especially among the young adult age groups. Once Sunday school was allowed to start up again, many churches struggled to regain their original numbers. Thanks to the Reading Star program, Yangmuri has fared better than most in being able to regain the younger adults due to children returning for English classes.
What is a lesson you have learned from our partner that should be shared with churches in the U.S.?
In the past month since arriving in South Korea, I have learned many lessons from our partners here. While some of these have been literal life lessons such as how to use a rice cooker and properly introduce myself in Korean, there have been theological ones taught to me as well.
After each Sunday service, the young adults meet with Reverend Cheon to discuss that week's scripture passage and sermon. One week, our conversation was about Hebrews 11:1-6. Reverend Kim gave a sermon explaining how faith is a mixture of language, education, and imagination. At one point he posed the question, "Why do we question our trust and belief in God when we don't do the same for most humans?" When we get on a bus, our first thought generally isn't whether or not the driver is qualified or if they will get us to our destination safely. Instead, we trust in the driver to navigate us through the streets, and in the meantime we relax and enjoy the ride. How come we do not do the same with God?
Once the service and meeting was over I looked at the scripture again and took special note to verses 1 and 3:
11:1 (NIV) "Now faith is confidence in what we hope for and assurance about what we do."
11:3 (NIV) "By faith we understand that the universe was formed at God's command, so that what is seen was not made out of what was visible."
The lesson I learned is that having faith in God is more than just believing in a spiritual being. It is about having faith in yourself that you are capable of accomplishing all you wish for in this life. It is about using your faith and grace to see the good in all the people around you.
What are some ways that churches can show support to the people where you serve or our partner?
After speaking with Reverend Cheon Min Heui, the best way for churches to support the people at Yangmuri has already been done: sending a native English speaker with ESL education experience. I have only been serving with the PROK for a little over two weeks now, but I think that other ways churches can show support is through educating their congregations about South Korean history and the potential roles America has played within it. Through understanding the history of our partners, as well as our own potential involvement, allows a clearer view of the partner's challenges as well as a better opportunity to show support in a positive, healthy manner.
Which books have influenced your understanding of your country of service, work, or theology (choose 3-6):
Toxic Charity: How Churches and Charities Hurt Those They Help, and How to Reverse It written by Robert D. Lupton
The Color of Compromise: The Truth About the American Church's Complicity in Racism written by Jemar Tisby
The Making of Biblical Womanhood written by Beth Allison Barr
See No Stranger written by Valeria Kaur
Freedom Is A Constant Struggle written by Angela Y. Davis
Which films that have influenced your understanding of your country of service, work, or theology (choose 2-4):
Mr. Sunshine (미스터 선샤인 ) – drama
1987: When the Day Comes – film
May 18 (화려한 휴가 ) – film
Ode to My Father (국제 시장 ) – film
---
This partagraph was taken directly from my recommendation letter from Global Ministries
More from Abigail Reed