The Hong Kong Christian Council and Protests in Hong Kong
"Pray for the peace of all Hong Kong people. May God grant a listening heart to the authority and the politicians of Hong Kong." Rev. Dr. Eric So, Hong Kong Christian Council Chairperson
---
Nov. 20, 2019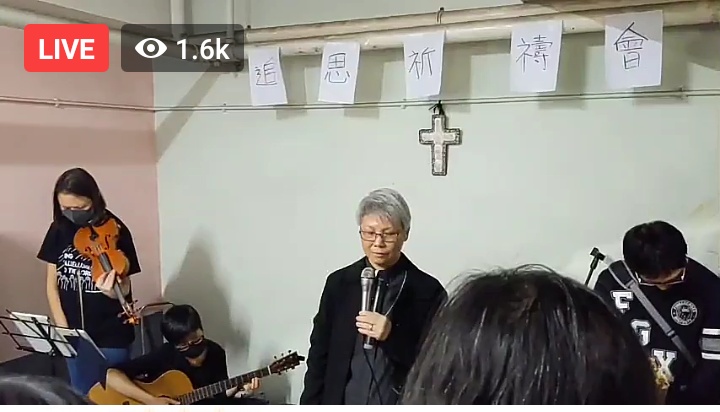 As Hong Kong enters its sixth month of anti-government protests, some of the worst violence has taken place in the past few weeks. It started after the death of a young university student who had fallen from one story of a parking garage to another story in the early hours of the morning near a protest area. He underwent surgery, was in a coma, and finally passed away a week later. May he rest in God's eternal peace. We are not sure why he entered the garage after joining the protests where tear gas was used by police. The details of his being found, emergency response, and police action are also not completely clear. His death sparked outrage among protesters who accused the police of murder and cover-up.
Then, in retaliation, protesters started a citywide action to paralyze the transportation networks for three days during rush hour. During one conflict between a policeman and a young university protester, another student was shot in the abdomen.There were videos of it posted right away and it appears the student was unarmed. Details are still pending. The young man was taken to surgery in critical condition with injury to the kidney and liver. The surgery saved his life though he remains in hospital in serious condition. We pray he can make a full recovery. The policeman involved has been "doxxed", meaning his personal details were posted online and his family has received death threats. In another tragic incident, a construction worker got into a confrontation with protesters and was set on fire. He is in critical condition at the hospital with serious burns over his body.
Then there have been huge protests and takeover of university campuses by protesters – Chinese University of Hong Kong last week, and Hong Kong Polytechnic University this week. It was a dangerous situation for staff, students, the public, and police. So much tear gas was fired! Many protesters were arrested, some only high school students. After intense negotiations, minors were allowed to leave with their parents after intervention by university heads and Legislative Council members. 
If you ask what churches are doing in response, they are actively engaged. Some Christian ministers (including mine from Kowloon Union Church) went to a memorial service held at the parking garage where students were gathering to remember the young man who died. They prayed with those who were there, trying to bring God's peace and love to the grieving. Churches also opened their doors to anybody, but especially protesters who were in need of rest or trying to escape police. Some had run into a Catholic Church, but the police entered anyway and arrested a few young people. Kowloon Union Church was looking after hundreds of protesters around the clock this past Sunday to Monday as the church is right near where some of the worst clashes were happening on Nathan Road. Even as they do so, Christians still face criticism on both sides – some saying the churches are not doing enough to support protesters on the one hand, and others saying the churches are only encouraging more violence and vandalism by not condemning radical protester actions. 
Now, if you think this is all shocking, yes it is. We don't know when the protests and violence will end or how we can resolve this as the conflicts continue. Please pray for Hong Kong that we might find a way out of this painful and chaotic situation to something better for the city and nation in the short and long term. 
I still manage to go to work at Hong Kong Christian Council. We still have meetings and events. Businesses are open and transportation networks work most of the time (except when they don't). There was the residue of tear gas in the air as my office is close to Polytechnic University and Nathan Road. Very worrying in terms of health and food safety. Finally, one happy note – my daughter got married on Oct 26th! Thank you for your prayers that all went smoothly on a very happy occasion. This was a big thing to be grateful for, not only for a beautiful day that proceeded without incident but the addition of a wonderful son-in-law. Thank you, Lord.
With love from Hong Kong in this season of Thanksgiving,
Rev. Judy Chan
Executive Secretary for Communications
Hong Kong Christian Council
Global Ministries Mission Co-Worker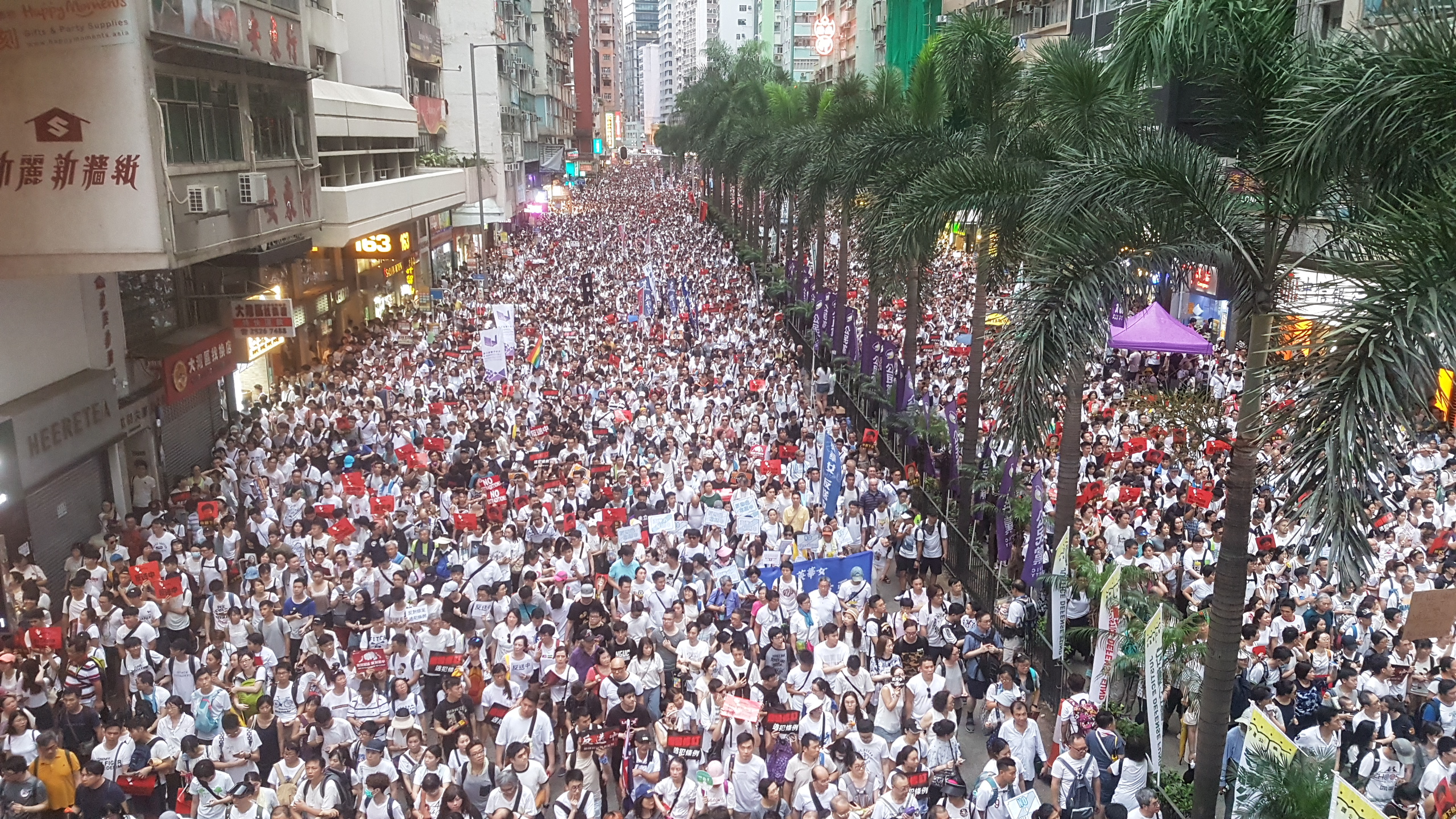 Photo: June 9 protest in Hong Kong, by Bruce VanVoorhis
---
"Pray for Hong Kong: Reconciliation, Healing, and A Way Out" Prayer of commitment used in 72 Hong Kong Protestant and Catholic churches, Sept. 6
---
Peace Shall Come to Our City! Joint Pastoral Letter signed by 54 Hong Kong Chinese Christian Ministers and Scholars, Aug. 5
---
Watching Over Hong Kong, July 19 from Global Ministries Mission Coworker Judy Chan in Hong Kong
---
Urgent Appeal regarding the Ongoing Clashes Between the Police and Members of the Public

Publish Date: 2019/07/19 The mass protests against the proposed amendment to the Fugitive Offenders Ordinance have resulted in clashes and violence between the Police and members of the public, and the situation is deteriorating. The people of Hong Kong are deeply worried and distressed. Hereby we issue the following urgent appeal:
1. We urge the Chief Executive to respond as soon as possible to the strong demands of the public to withdraw the Bill of the proposed amendment to the Fugitive Offenders Ordinance.
2. We urge the Government to set up an independent commission of inquiry as soon as possible to find out the truth in an impartial manner.
3. All parties must exercise restraint and avoid provocation. Regardless of one's political stance, one should treasure life and refrain from doing anything that might harm oneself or others.
4. We urge the government to take the initiative to confer with the representatives of different factions to seek a solution to the current impasse.
Rev. Dr. Eric So Shing-yit, Chairperson, Hong Kong Christian Council
Cardinal John Tong, Apostolic Administrator, Catholic Diocese of Hong Kong
---
A Letter from Hong Kong Christian Council to our Ecumenical Friends, July 1
---
July 1, 2019
Dear Friends,
You may have been reading in the news about the protests in Hong Kong. It's about the proposed legislation to allow the Hong Kong government to send persons charged with certain crimes to be sent to mainland China for prosecution. The situation arose over a Hong Kong citizen who is accused of murdering his girlfriend while in Taiwan. He came back to Hong Kong and there is no method to have him extradited to Taiwan as there is no agreement between the two places to do so. This gave the HK government impetus to amend the Fugitive Offenders Ordinance to allow extradition even to other countries that don't have an agreement in place. Taiwan actually did not request this as a solution to the problem and is not in support of the amendment. 
For Hong Kongers, of course, this raises great concerns about human rights and a fair trial. The legal system in Hong Kong is based on the British system and at least until 2047, we thought we had guaranteed that it would not change. Thus the possibility that someone in Hong Kong could be sent to China for prosecution is alarming, from what we know of the Chinese legal system. 
Thus, many citizens and sectors of society have come out in opposition, besides the young people – lawyers, social workers, teachers and businesses. Many feel that passing this law as quickly as the government hopes will only bring international condemnation as well as lead to devastating consequences for the city. In the appeal below from the Hong Kong Christian Council, we propose that the government suspend the amendment and allow further discussion and dialogue between different parties.
Please pray for Hong Kong in this critical moment that the situation will not escalate to violence between protesters and police, that the government gives some cooling-off period, and that the church can stand strong to serve the community and the nation in the peace of Christ.
With hope in God,
Rev. Judy Chan
Executive Secretary for Communications
Hong Kong Christian Council
Global Ministries Mission Co-Worker
---
An Urgent Appeal from Hong Kong Christian Council
Publish Date: 2019/06/12
The society is full of disputes and disturbance due to the Amendment of the Fugitive Offenders Ordinance. Today, the demonstrators blocked the roads near the Central Government Offices and Legislative Council and confronted the law enforcement officers. Under such critical situation, and for the benefit of Hong Kong citizens, the Hong Kong Christian Council held an emergency meeting with several representatives of various denominations and church bodies to share and discuss together. We then issued the following urgent appeal:
We request a prompt appointment with Mrs. Carrie Lam, the Chief Executive, and Hon. Andrew LEUNG Kwan-yuen, Chairperson of the Legislative Council. We hope that they may meet with representatives of the Protestant Church and Catholic Church and, before the situation is out of our control, hear the voices and concerns of the clergy and the appeals we collected from the people.
The Government should consider carefully that, if the Amendment of the Fugitive Offenders Ordinance is passed, it would worsen the splits in the society for a long time and eventually will trigger a new round of conflict. Thus we hope that the SAR Government can suspend the amendment and give the society more time in order that the tension can be resolved with rational discussion.
We appeal to all clergy in the demonstration area to pay attention to changes in the situation and to show concern with pastoral care for the demonstrators. They should also try to stop any violence that is happening and to protect the safety of all participants as well as themselves.
Rev. Dr. Eric S.Y. So
Chairperson of Hong Kong Christian Council
---
The Rest of the Story, May 29 from Global Ministries Mission Coworker Judy Chan in Hong Kong