Summer Camp Archive 2019
To find out more about Global Ministries presence at summer camp, click here.
WEEK ONE:
Camp at Bethany Hills was a holy encounter with God's peace! We worked together as a community to bring peace in our midst and it was a glorious success! – Emmanuela Loccident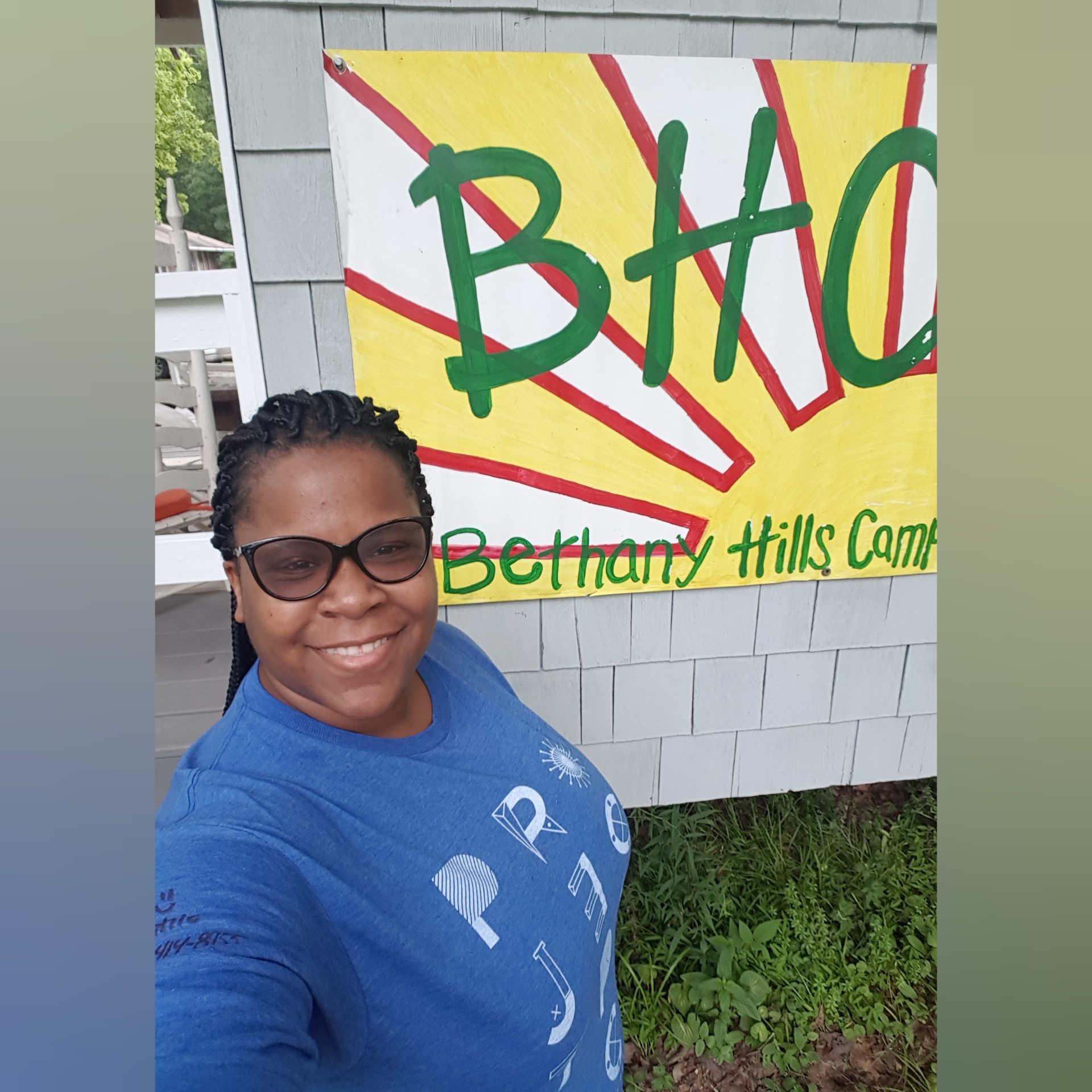 _________
Family camp was cool. The kids were super great and hopped in to help. – Michelle McKay at the Disciples of Christ Alabama /Northwest Florida Mission Camp in the Port St Joe area helping with recovery from Hurricane Michael.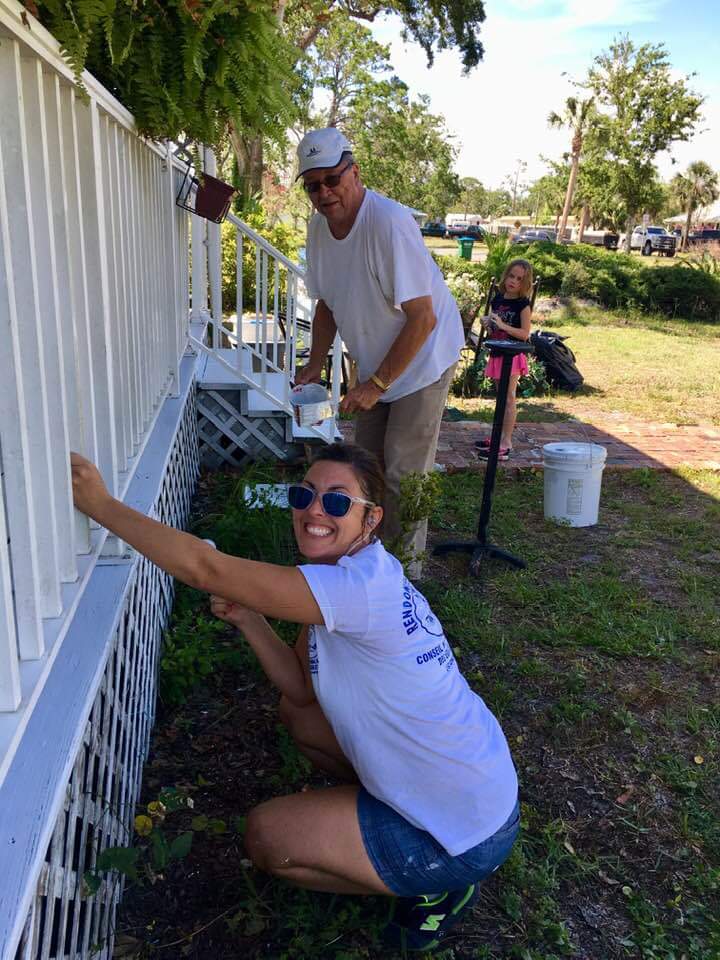 ___________
Heading into Kamp Kaleo, I hope to learn what church camp means to folks. As a child, I never went, so this is my very first week of summer church camp. I want to learn what it means to other folks and how they connect to God in this place. 
From the very beginning, I was treated like family at Kamp Kaleo. I got to play the role of camp counselor there and created incredible bonds with my fellow counselors, resource team staff, and the campers themselves. It was so moving to watch everyone bond in an environment where they felt comfortable being their authentic selves. I feel like I better understand why church camp is such a formative experience for so many and I'm really thankful for that! – Kearstin Bailey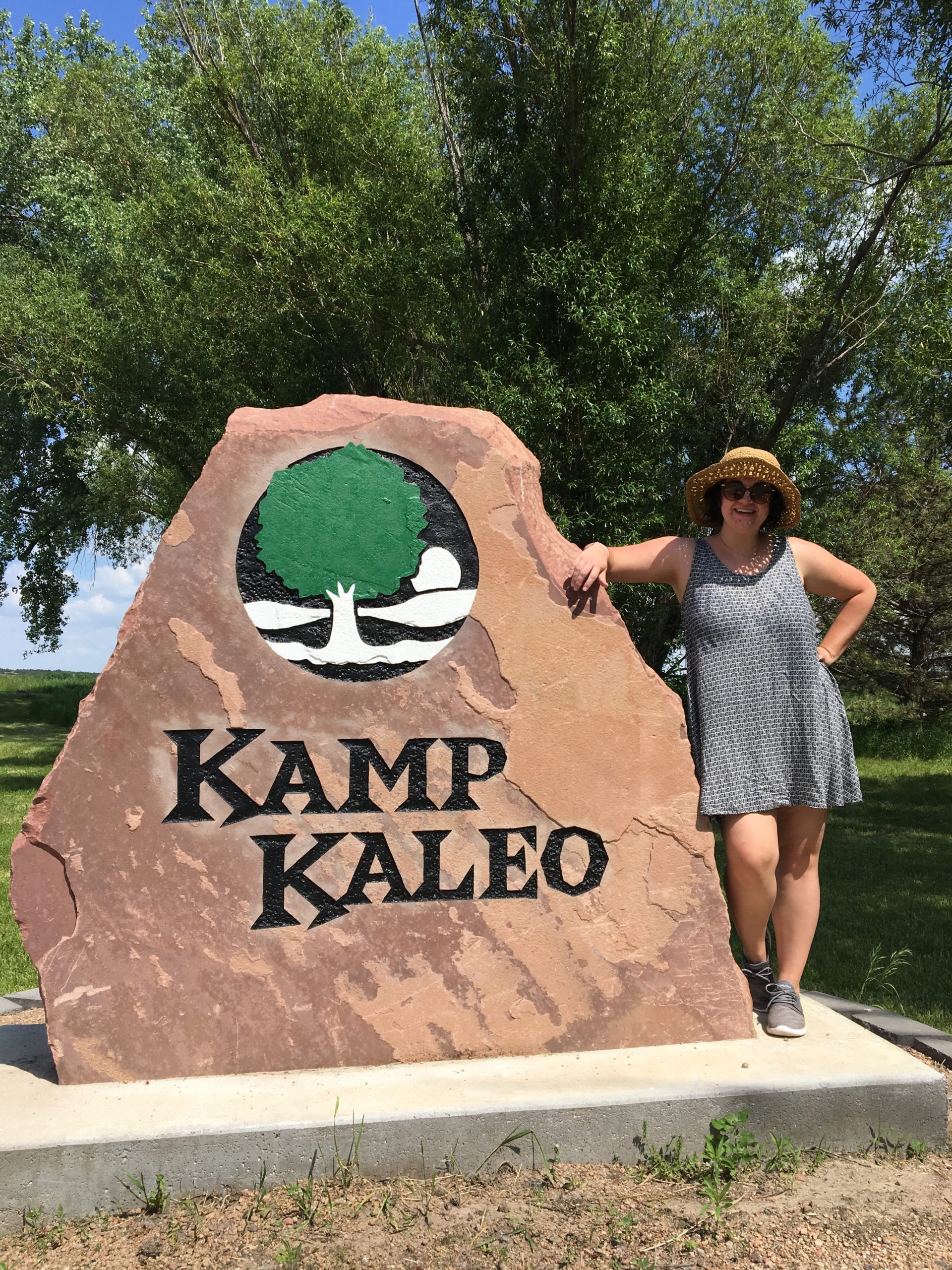 ___________
WEEK TWO:
Just out of seminary, my first call was to our church in Henry, Illinois.  During my ministry there, I co-directed CYF camp at Camp Walter Scott.  Forty years later now and representing Global Ministries, I am back at Camp Walter Scott sharing in the Peace Works curriculum and having a great time with both campers and counselors.  They're grateful to have the opportunity to hear about Global Ministries and to learn about the realities of our Muslim and Christian brothers and sisters living under occupation in Palestine, where Global Ministries works with several partners seeking a just and lasting peace In the region. – J. W.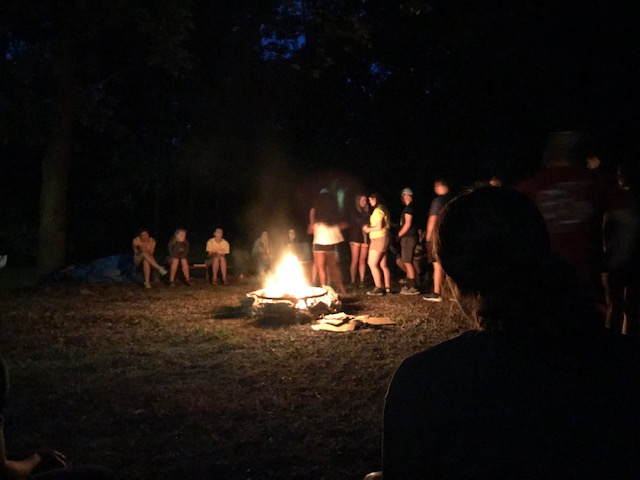 ____________
Kum-Ba-Yah: The place where you can be yourself! They have mastered how to allow people to express who they truly are in a loving and welcoming way. – Emmanuela Loccident, at Camp Kum-Ba-Yah of the Kentucky Region.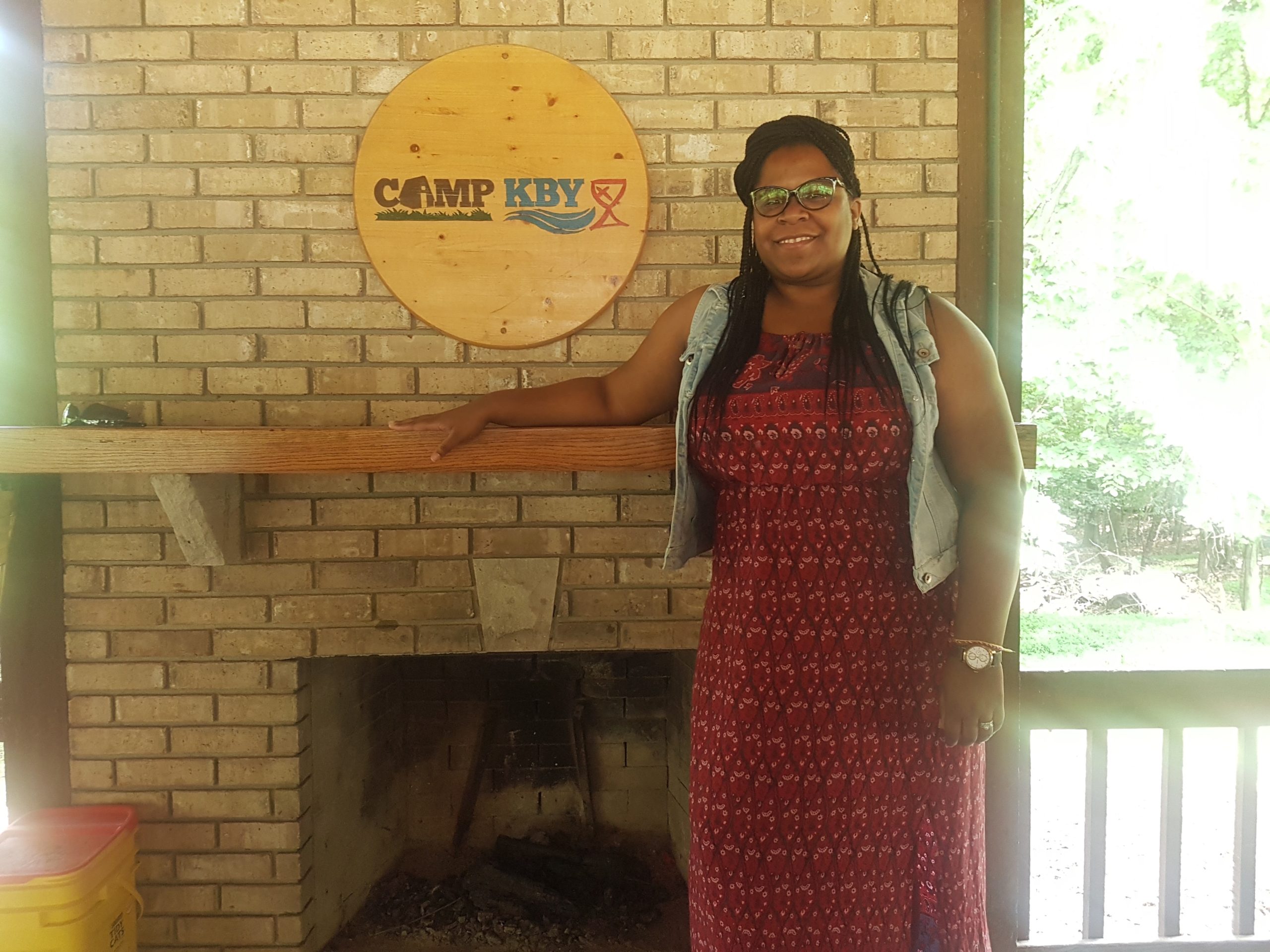 ____________
At Camp Christian I spend a lot of free time relaxing in the infamous "green chairs" and listening to campers talk about their desires to serve around the world as musicians, doctors, and educators! They shared stories about their neighbors, classmates, and friends from other countries and now living in Ohio. These children were inspired to use their gifts and intrest to serve God in the US and around the world. They were invested in learning about my lifestyle, work, and adventures while living in Sierra Leone. The green chairs are known for creating relationships and hosting meaningful conversations while relaxing under the sun, and it held its promise to that. – Nia Sullivan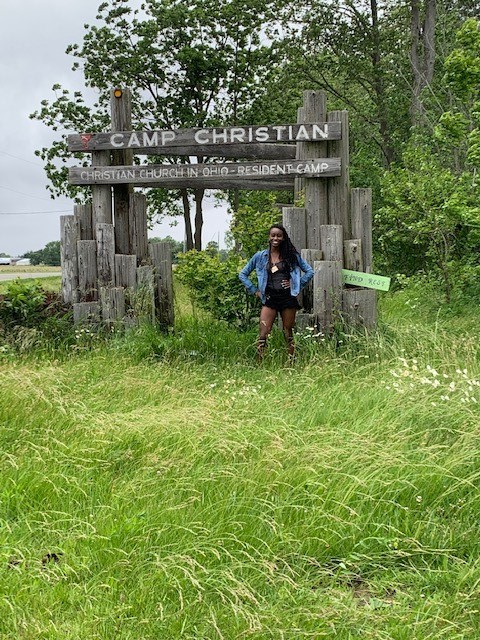 _____________
Before beginning our camp experience, I participated in the summer gathering of Church Women of the Southern Conference with the theme "We Shall Not Lose the Power of Praise". It was held at Peace United Church of Christ in Greensboro, NC, on June 12 and 13, and I was given an opportunity to bring greetings from Global Ministries as well as talk about my work in Lebanon. Good fellowship and connections with women in a new (to me) region! – Maria Bakalian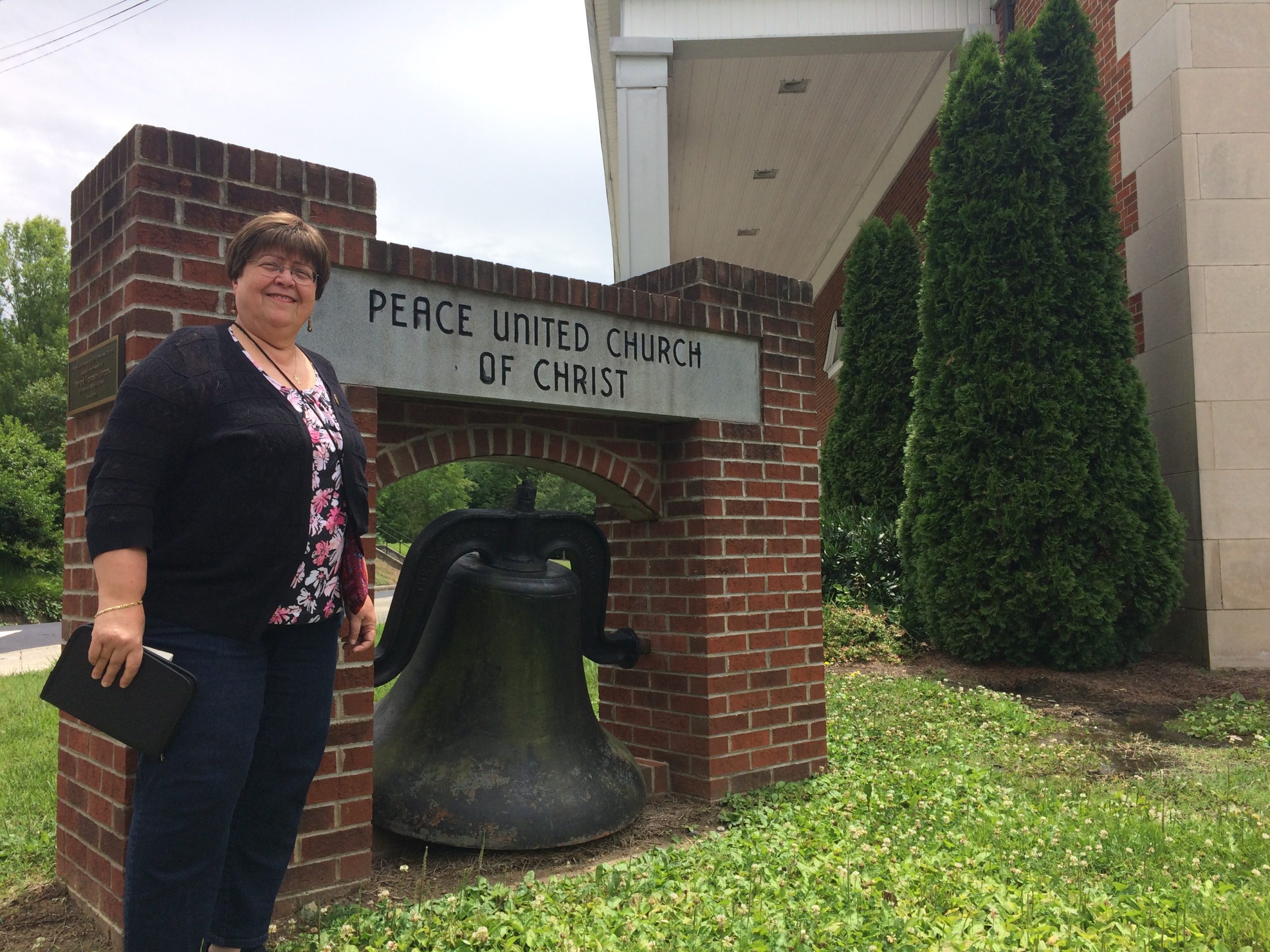 ______________
Going into my week at Pilgrim Heights, I seek to expand upon the idea of "service" for the high schoolers attending the Service Camp. I hope to broaden their perspective about what service entails and who, as Christians, we are called to serve. 
My week with the folks at Pilgrim Heights was an absolute delight. The camp was small but meaningful, with a group of youth dedicated to helping a camp that has made a large impact on their lives. Seeing their zeal to serve and bearing witness to the power that camp has had in their lives has been such a blessing for me, reinvigorating my own spirit of service! The camp itself is undergoing a spectacular transformation and I wish them every blessing as they strive to be a safe and sacred space for the wider community. – Kearstin Bailey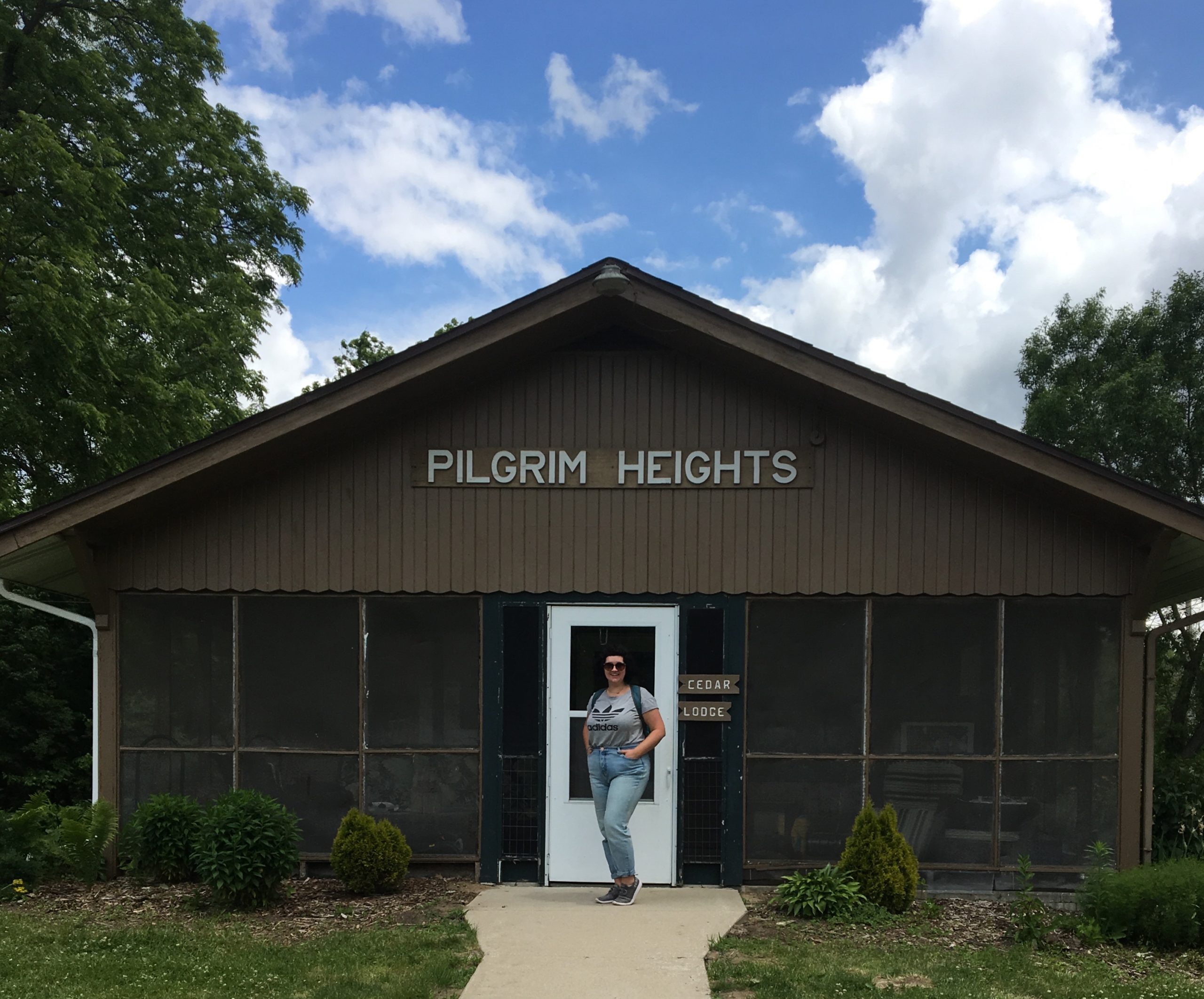 _____________
I was very impressed with the sensitivity, maturity and intelligence that the CYF kids engaged in conversations around active peace making. The ones who attended the Hearing Haiti interest group asked deep questions and were emotionally concerned for the people of Haiti. We learned a few Kreyol phrases and dances. They made cards for the kids in Haiti praying for blessings on the upcoming school year. – Michelle McKay, in the Florida Region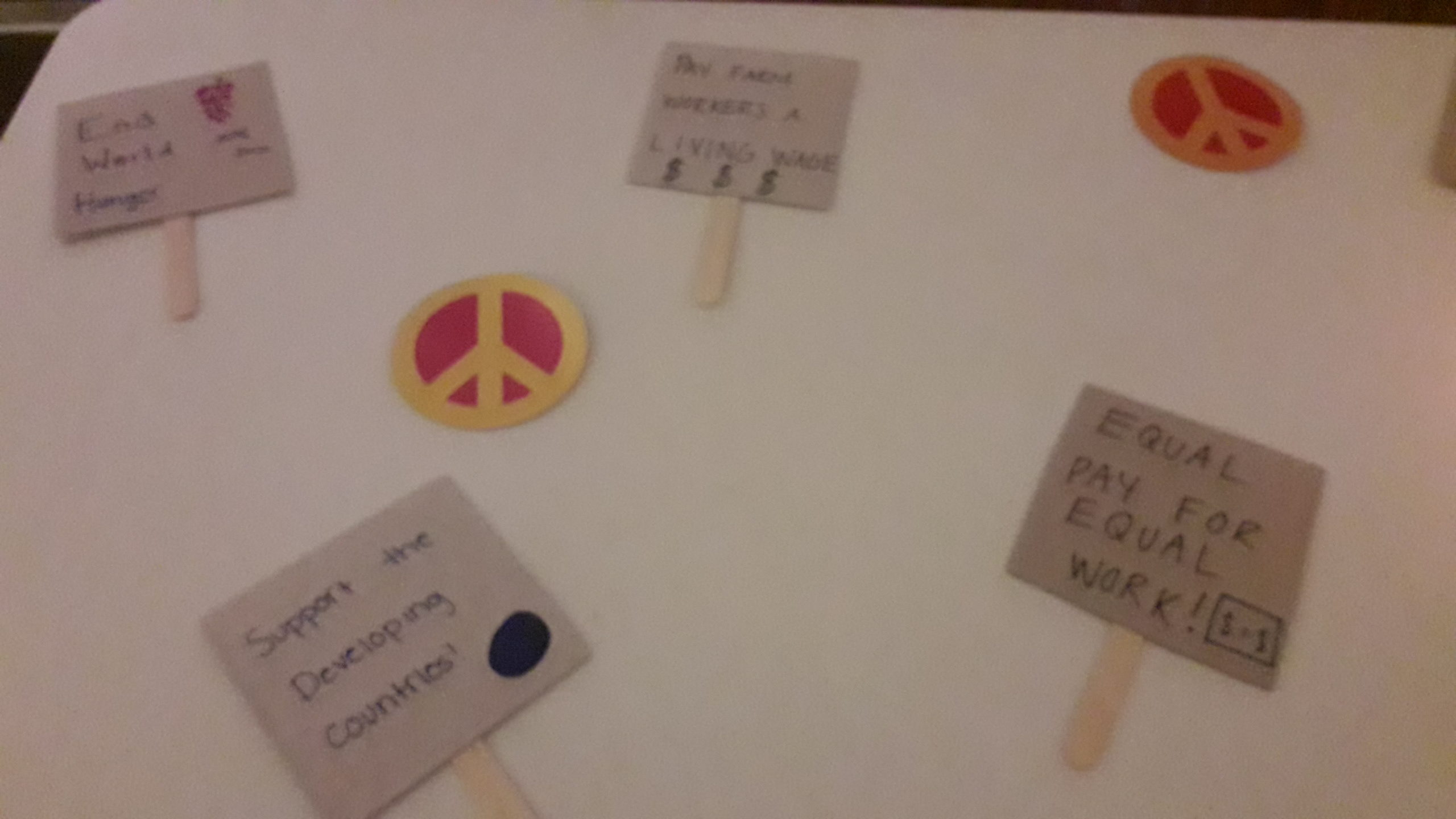 ____________
WEEK THREE:
The Bakalians are enjoying their interactions with junior and senior high schoolers at a Disciples camp this week at Camp Chandler in Alabama. Maria has been spending the week with the Chi Rho (junior) group, explaining to them what it's like to live in Lebanon. Nishan is serving as a counselor with the senior (CYF) group and sharing about his life and work. – Nishan and Maria Bakalian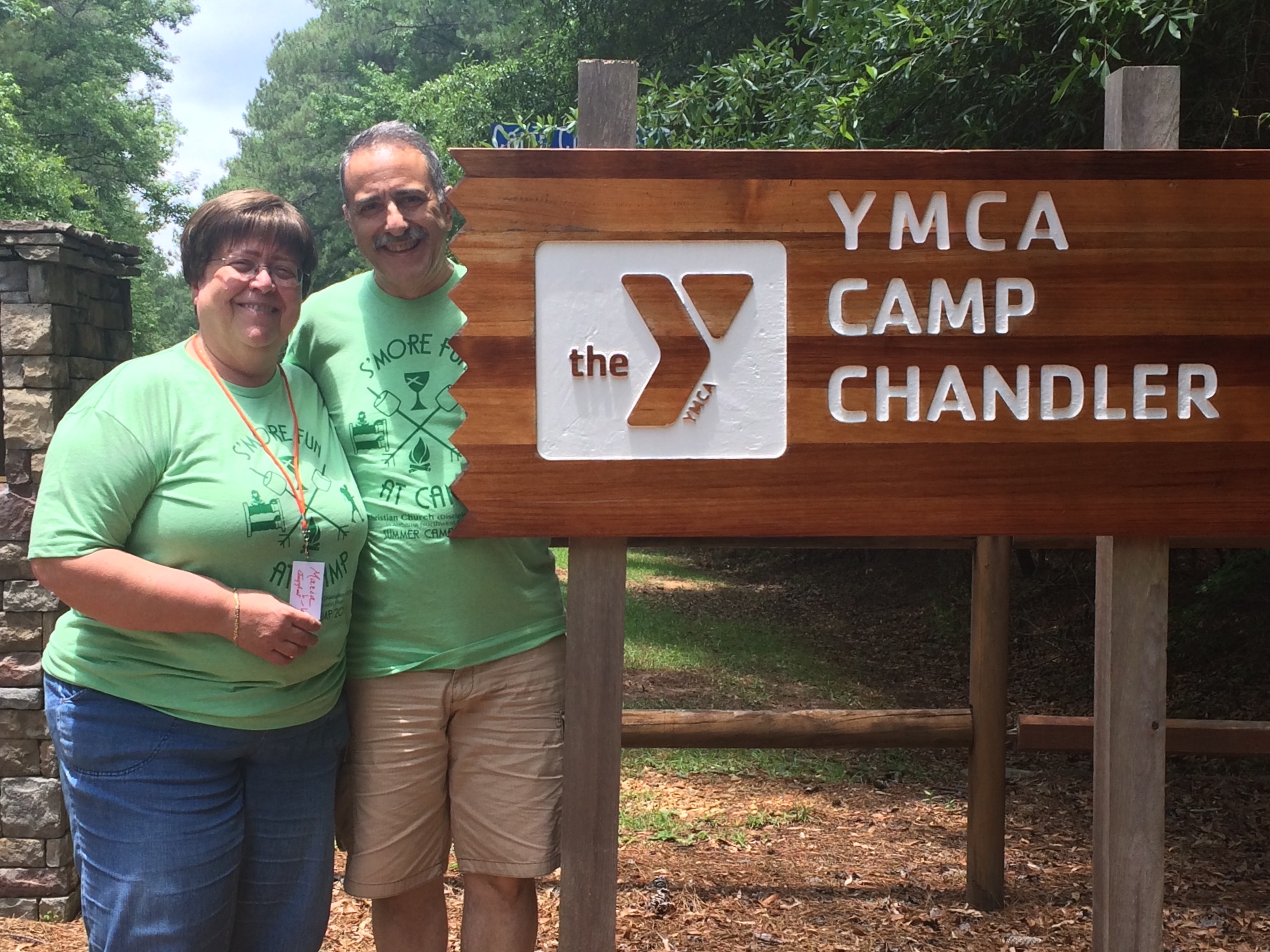 ______________
The whole week at Midway camp was crammed full of fun, new friendships, and true community. I was very impressed at the many, many times I saw ubuntu and agape lived out by the campers. I overheard campers, offering to include others that we left out or pulling themselves away from the group. I heard campers commenting on how "brave" it was for another camper to share a personal time in small groups.  – Michelle McKay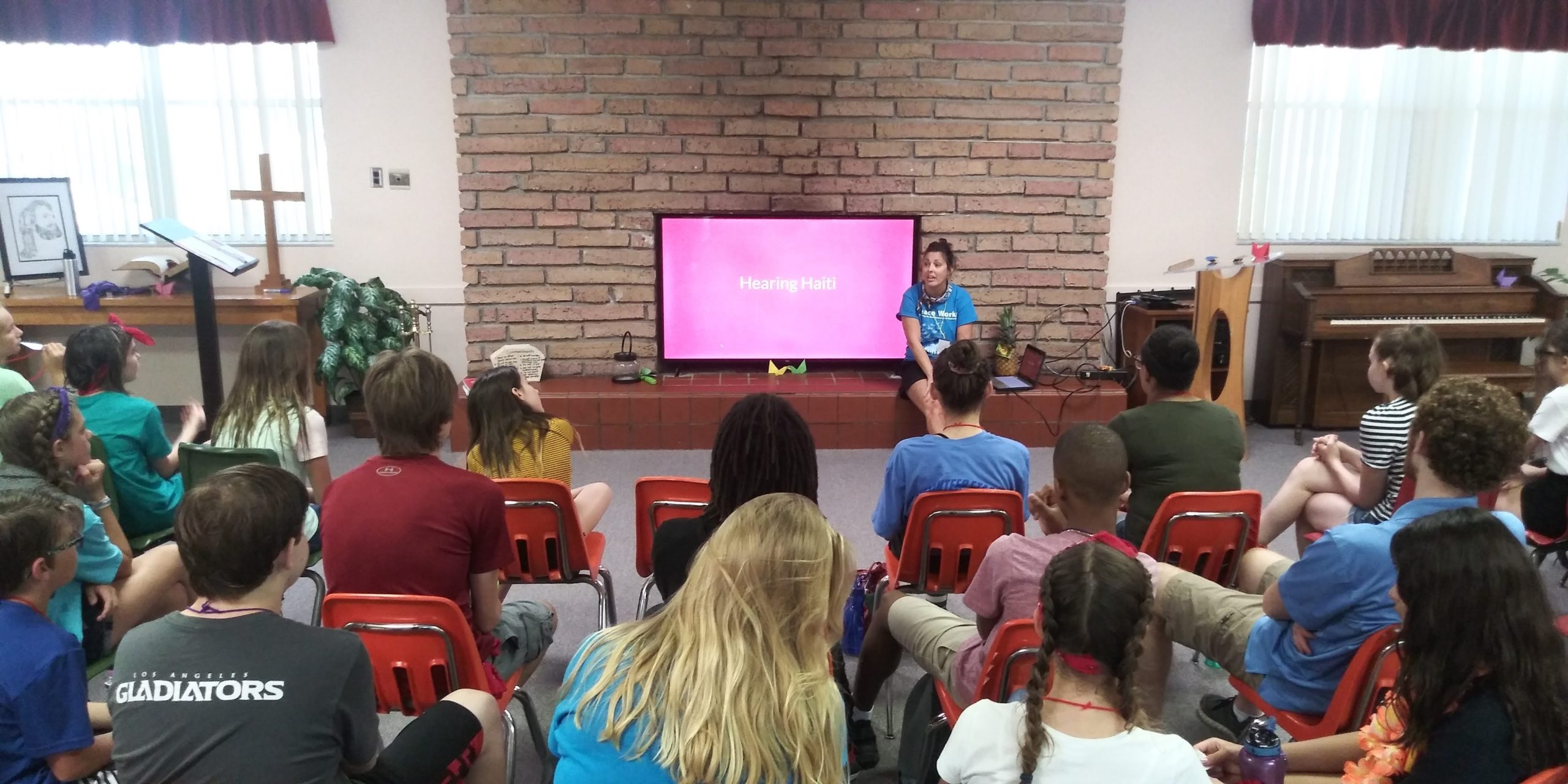 ______________
Week Four:
This week I've been part of the CYF camp in Guthrie, Central Oklahoma. At the beginning of the week when the 52 campers had just arrived I got to talk to the group about our work with Global Ministries, and some were quite interested in overseas internship or service. Today I was the keynote presenter and brought a Middle Eastern perspective to Jesus' parable of the Good Samaritan, with Disciples' Oklahoma Regional Minister, Rev. Pam Holt, in attendance. I also got to do join the youth in service and fun, cleaning up underbrush as well as zip lining! – Nishan Bakalian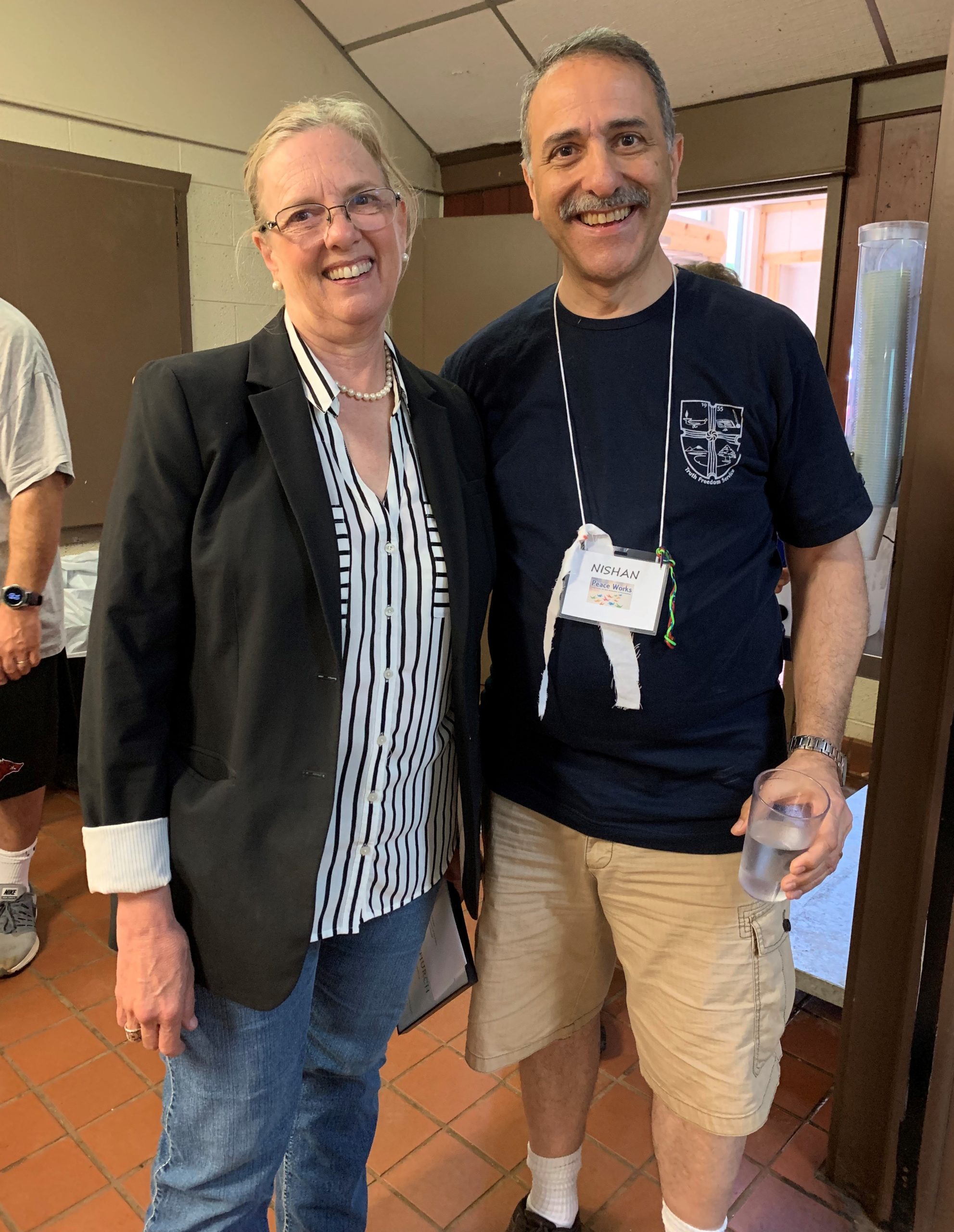 ________________
History was made in Arizona.  For the first time ever, The Christian Church (Disciples of Christ) and United Church of Christ (UCC) held combined camps at picturesque Emmanuel Pines near Prescott, Arizona. The DUCC (pronounced "duck") Camp included kids in elementary through high school.  The 42 middle schoolers attending not only enjoyed the surroundings, but a safe and supportive environment supplied by counselors and fellow campers. They displayed great interest in global advocacy during a discussion on how the Coltan, a mineral found in DR Congo, helps charge their cell phones, and human toll mining Coltan has taken on DR Congo.  They learned the importance of advocating for justice and peace as light and salt of the world, a core theme of the camp.  In addition, they sang praise songs in Lingala and learned a popular dance often done in Disciples' churches in DR Congo. The highlight was the talent show featuring an authentic "Napolean Dynamite" dance moment. Many regard middle school as an awkward phase of life, but these young people displayed maturity and inclusivity, accepting one another for who they were.  If only everyplace could be like DUCC Camp. – Paul Turner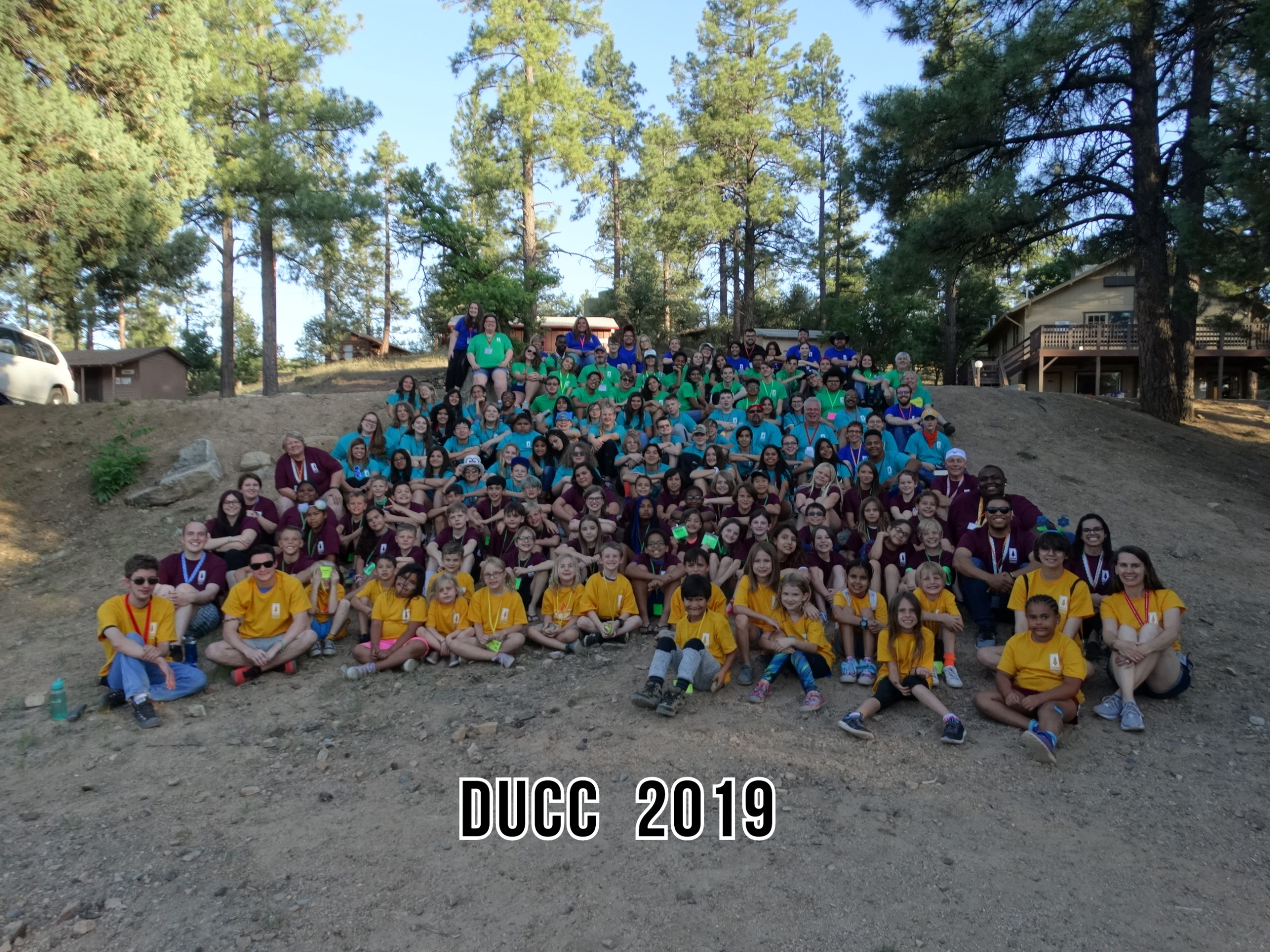 _______________
CYF Conference (week 1):
I enjoyed CYF conference this week as we reflected and shared stories about anger, revenge, doubt, hope and community. Through story telling during small group time and moments of leisure, I listened to courageous stories from campers. I had opportunities to share my personal stories about my work and life in Sierra Leone. In these moments of complete honesty, reflecting on accomplishments and failures, I felt united with my neighbors. 
Eighters/ Sexuality camp (week 2):
Through keynotes and workshops focusing on spirituality and sexuality, Eighters empowers youth entering high school to understand and love their bodies, improve their relationships, and to create an informed and inclusive environment. Throughout the week, this community embraced conversations and perspectives unique from their own. I shared my experiences advocating for girls right to their bodies in Sierra Leone. This week was insightful and interactive, leaving everyone involved with a better understanding of themselves and others.  – Nia Sullivan
________________
The week was full of energy, emotions and active peace making.  The kids climbed the rope swing, played dodgeball and gaga ball, sang tons of songs and popped hundreds of balloons. (That might be a slight exaggeration on the numbers though it sounded like it!)
We had kids pushing each other's buttons and lots of emotional flare ups. What was nothing short of a miracle was how the only time the group was quiet and focused was when it was scripture time. 
By the end of the week, discussing the words and ideas of shalom, ubuntu and agape, the boys were kinder to others. I challenged them to call out "Agape!" when they saw or received agape love from another camper. It was an impactful week. It never ceases to amaze me how God can work in our midst. 
A personal favorite moment was during worship, after I told the CWW story of the Good Shepherd and the Great Banquet. We then opened the curtain to reveal a banquet table. The master of the house called her servants to find people to fill her table. Little hands shot up immediately.  The servants came down to select a few children at a time. Until everyone in the room was standing around the table. Then we took communion.  – Michelle McKay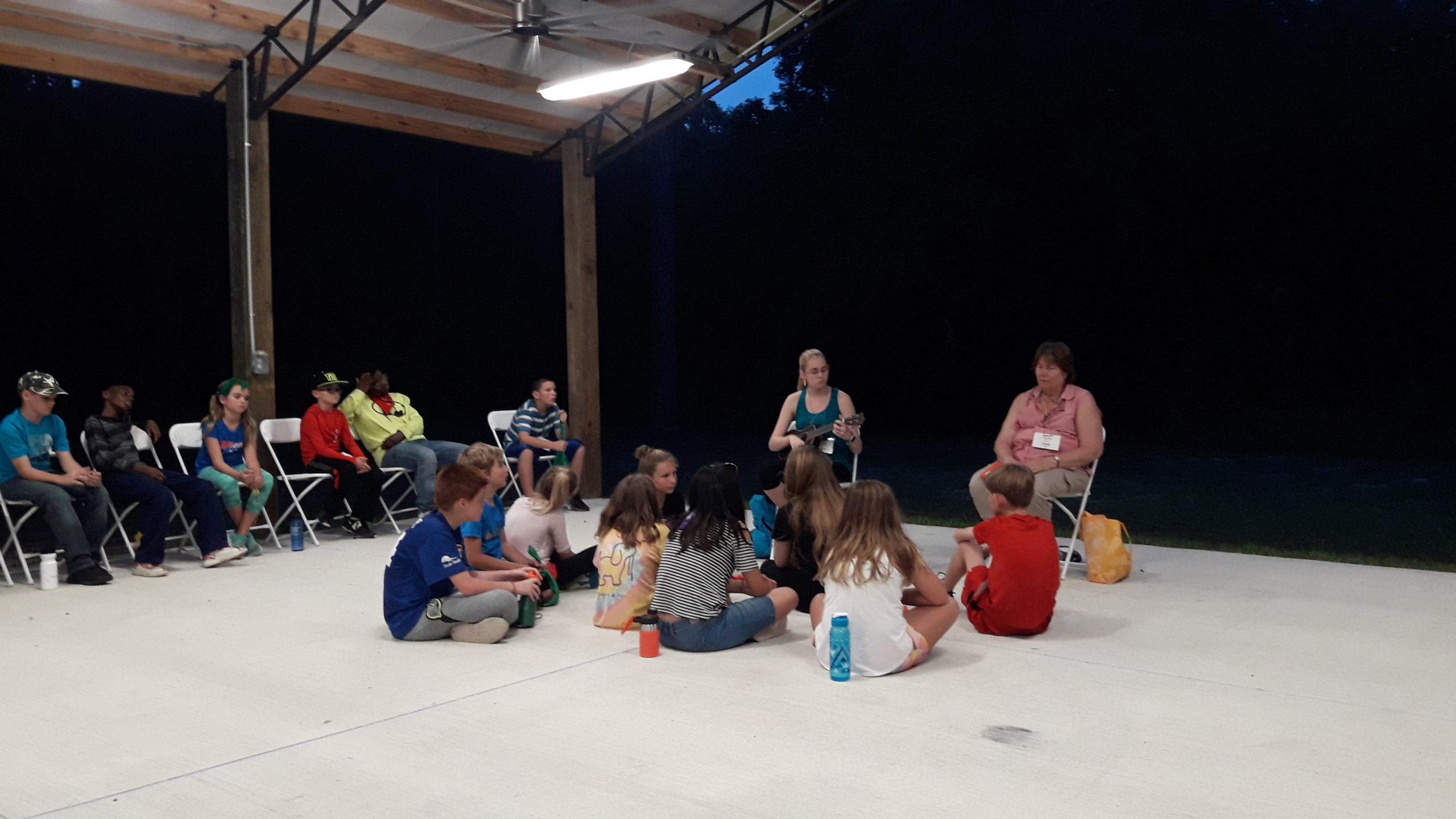 ____________
June 24th to the 28th was a delightful week spent with Chi Rho and CYF youth at the Texoma Christian Camp in Texoma, OK. The curriculum, Peace Works dove tailed well with what I shared about our work in Lebanon. The campers' were eager to learn as they discussed peace and agreed that it must begin from within. Their inquisitive questions brought a far away place close to their hearts. – Maria Bakalian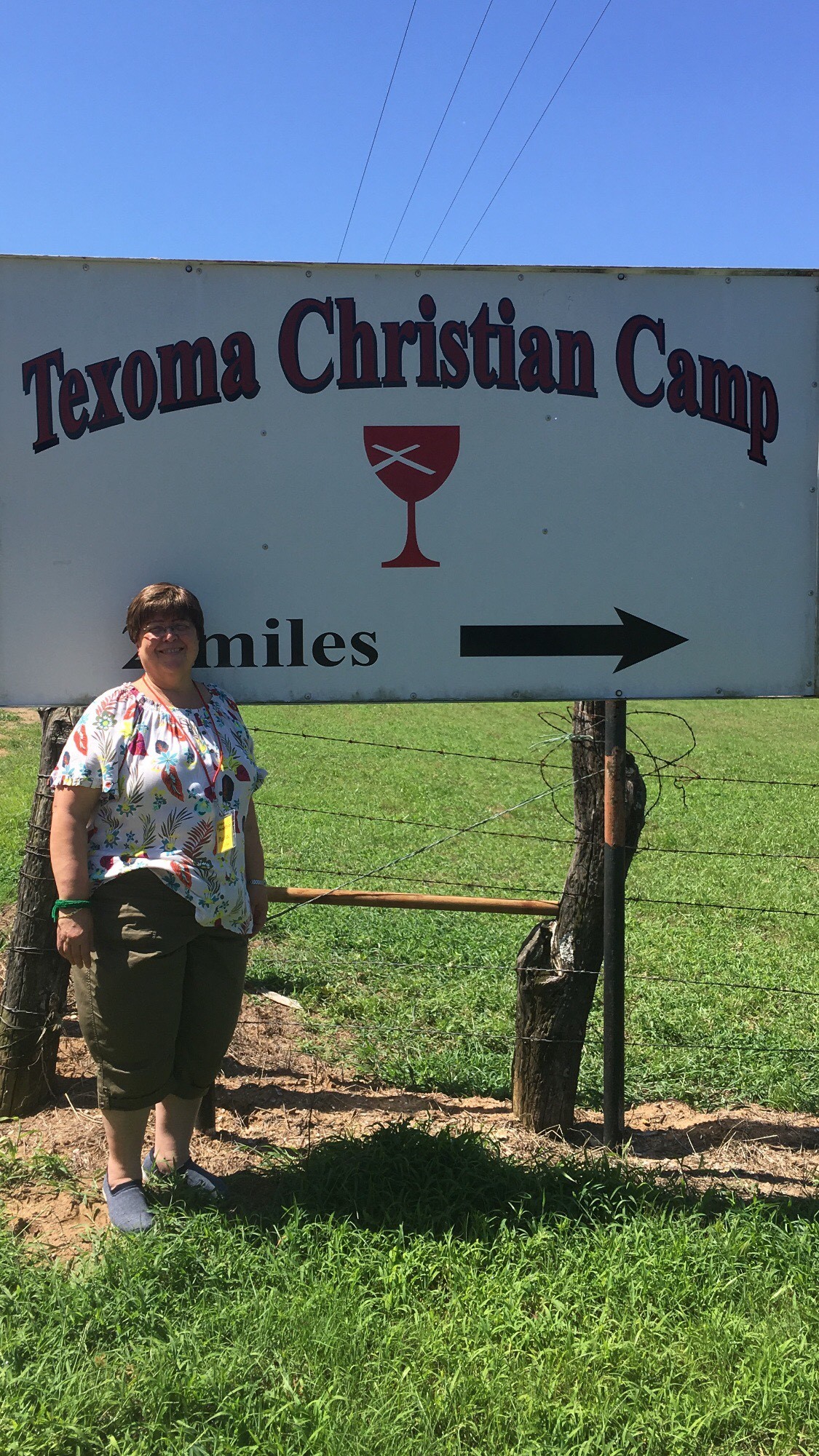 ______________
"Geneva Camp was a perfect example of intentional and radical hospitality. Seeing two different camps being together was and wanting to live in shalom was beyond inspiring." – Emmanuela Loccident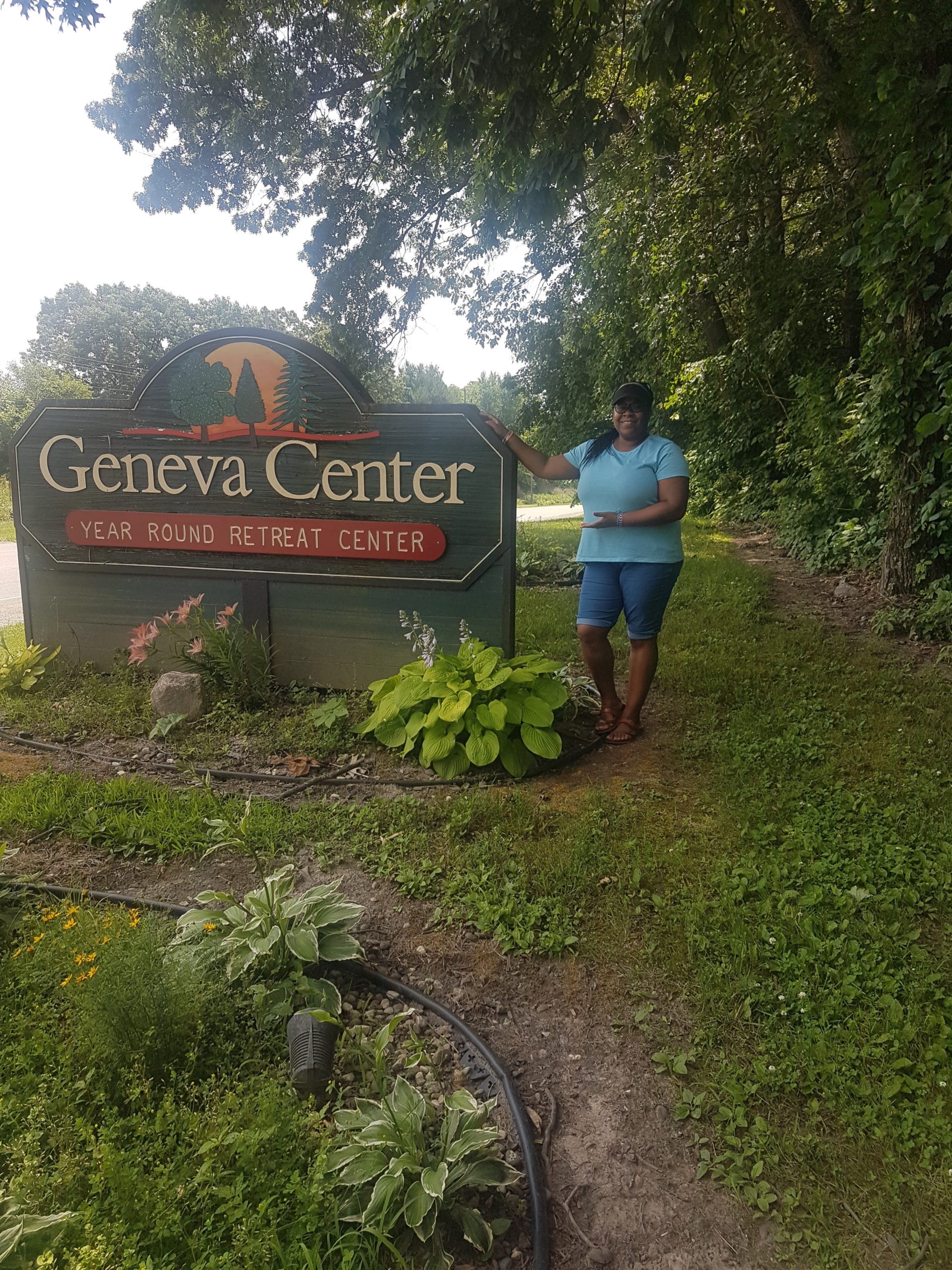 ______________
WEEK FIVE:
Grateful to have spent a week in the Greater Kansas City region with the campers, counselors, and staff at Tall Oaks! It was a blessing to witness how caring and loving our future generation of leaders are. Camp is still such a holy place to many and I'm glad that Tall Oaks family let me play a part in that. – Fiyori Kidane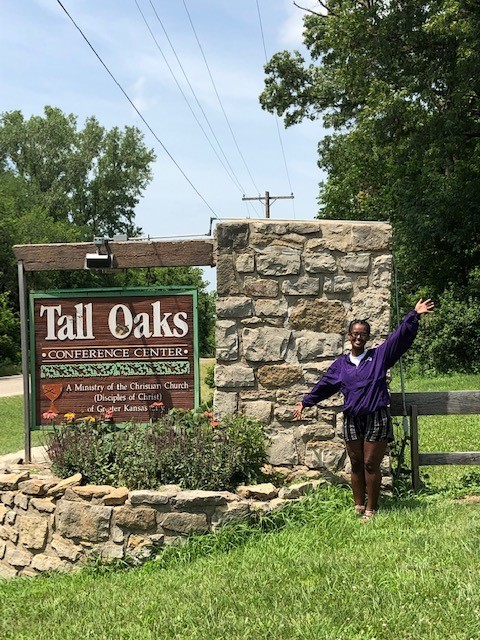 _______________________
The North Woods of Wisconsin are a long way from Bogotá, Colombia, but Yazmín and I have enjoyed being a part of the international presence at Moon Beach Camp. Moon Beach's focus is providing hospitality for campers, which includes lots of good food and snacks, even root beer floats! We've had many opportunities to share about our work in Colombia and Mexico throughout the week. – Michael Joseph and Yazmin Novelo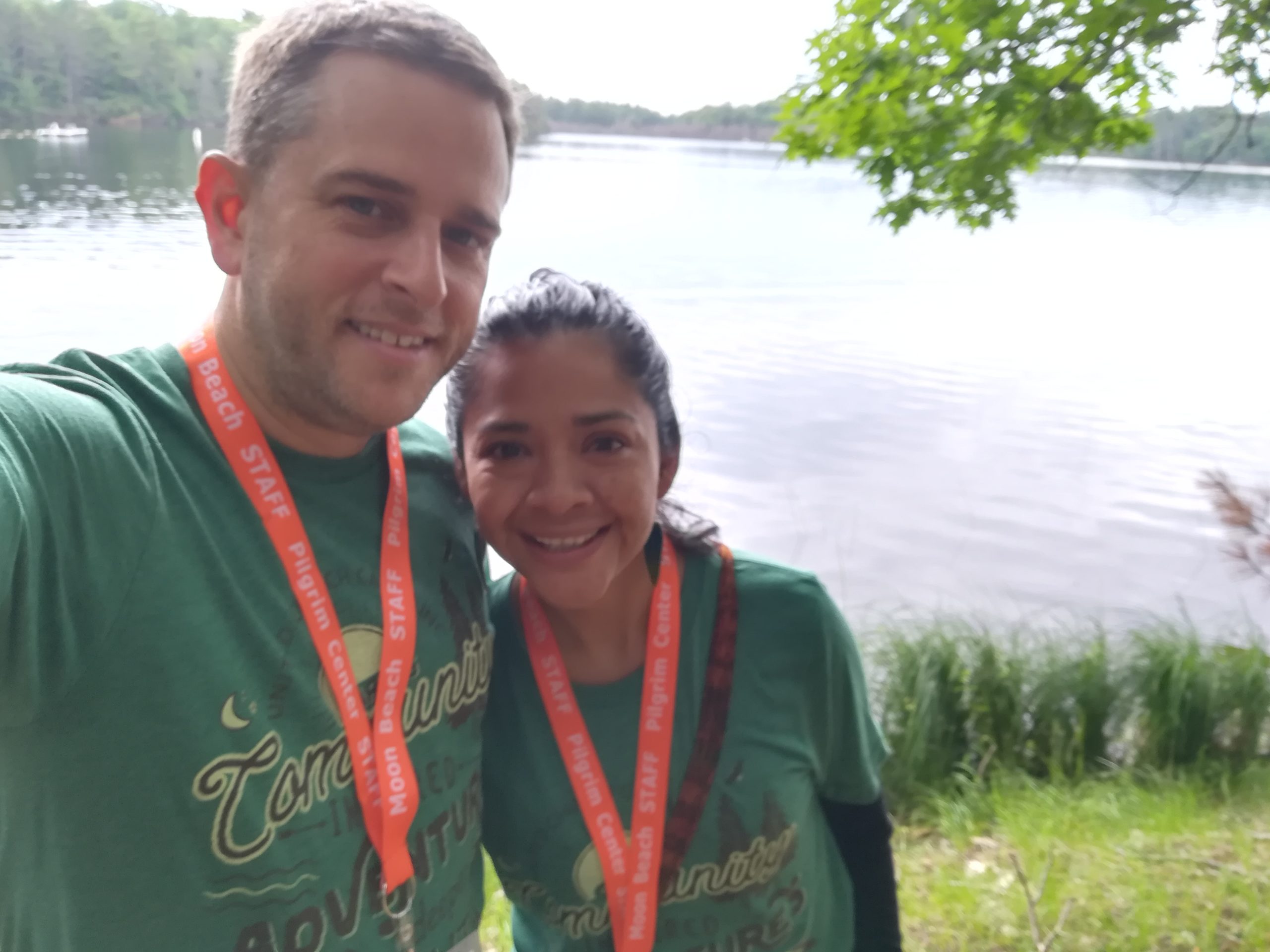 _______________________
WEEK SIX:

Having not attended camp as a child or youth, I wasn't entirely sure what to expect when the invitation to be part of the staff team at "Eighter's" at Tall Oaks (Linwood, Kansas) was extended; I just had a deep sense that I knew I wanted to be there. Passionate about faith, youth, and spiritual formation, who wouldn't? But as I reviewed the curriculum and understood the vision of "Eighter's," my excitement somehow grew all the more. While the hours were longer than I could have mentally prepared myself for, the camp's physical space itself was awe-inspiring, as were the staff team and campers (each of whom were remarkable and taught me so much). Still the greatest among dozens of highlights was the worship, and I believe this was unanimous for all of us at "Eighter's" this year. Three youth, each separately shared that they felt "as though God was in the room with us" – something that when I probed further, none of them had ever experienced before. What could possibly be a greater privilege than to be a part of a camper's first, palpable spiritual encounter? 'Overjoyed' cannot express how glad I am to have been invited to be part of this incredible week-long camp experience. – Rachel Pellett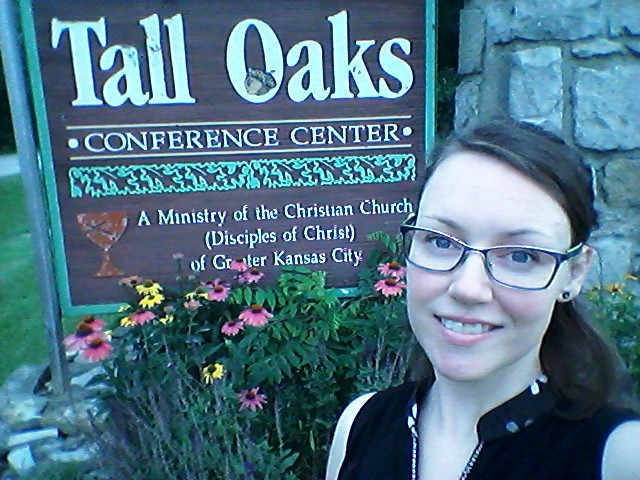 _______________________
Phyllis Byrd at Silver Lake Conference Center in Sharon, CT.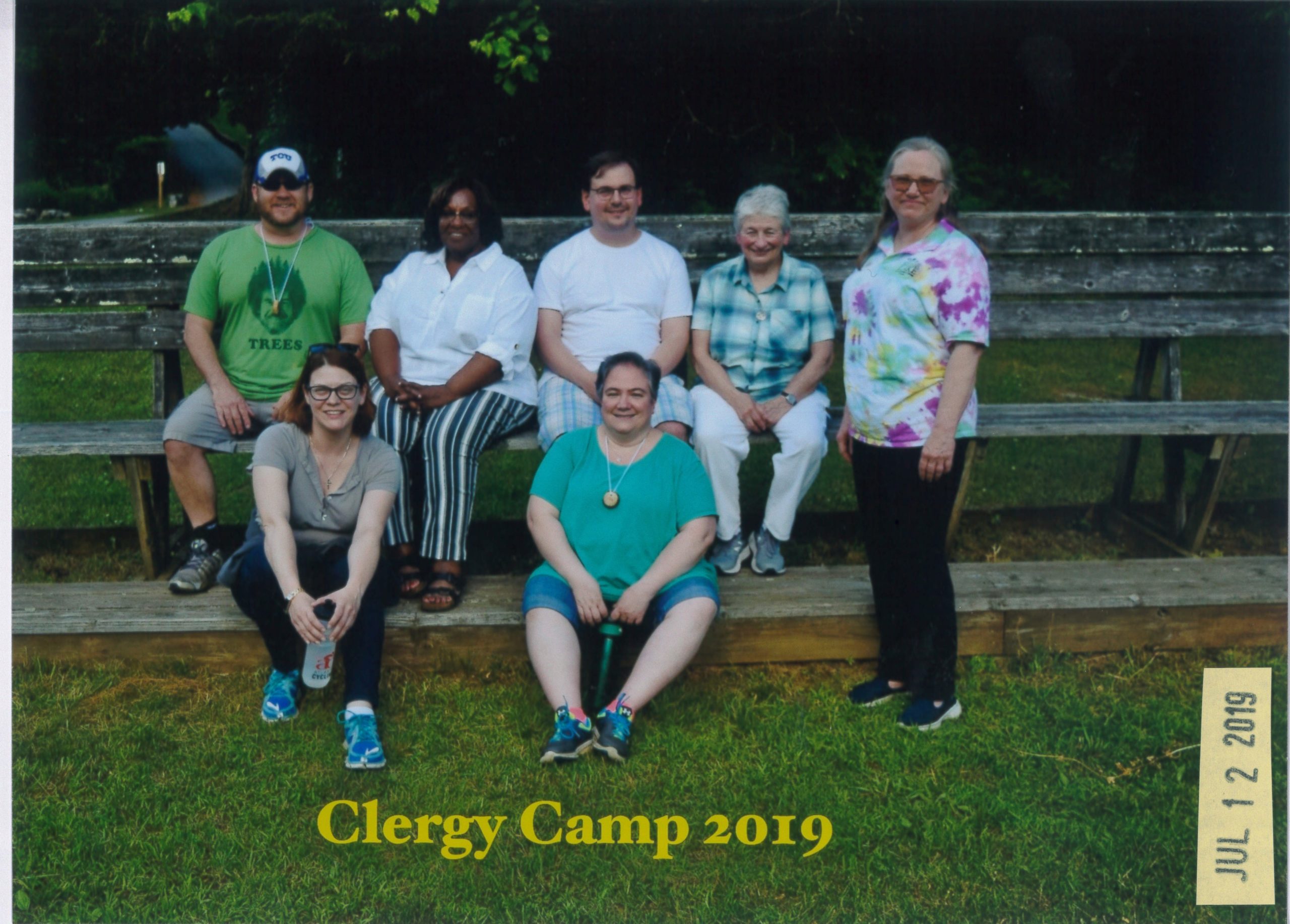 _______________________
Fiyori Kidane and Betty Murillo, mission co-worker in residence from the Philippines
_______________________
In the "Over the hill" work camp, the Creative arts camp, and the Grandparents and Me camp, we helped the program director and led chores like cleaning, serving, and being useful. In the fourth camp, Pride Camp, I was invited to lead different programs, work with children and run activities and games.
The camp ground is extremely beautiful. We are in the middle of nowhere – we see wild life every day and we are just disconnected from everything. The weather is not so good. It is raining almost every day (on the first day it snowed) and when the sun is shining it is still not too warm. The other three interns are the most wonderful people I've ever met.  So long story short, I am having my best best time in my life. – Soma Varga, mission co-worker in residence from Hungary
______________________
The camp at Wakanda' ho was a true week of agape – unconditional love and acceptance. One of many examples I witnessed over the week was having a 'gender neutral' cabin for our two campers that are transitioning. When the outside world is so quick to judge and exclude, it was beautiful to watch this group of high school students completely accept these two people, just as they are. Christian Youth Fellowship in KY exhibited true community. – Michelle McKay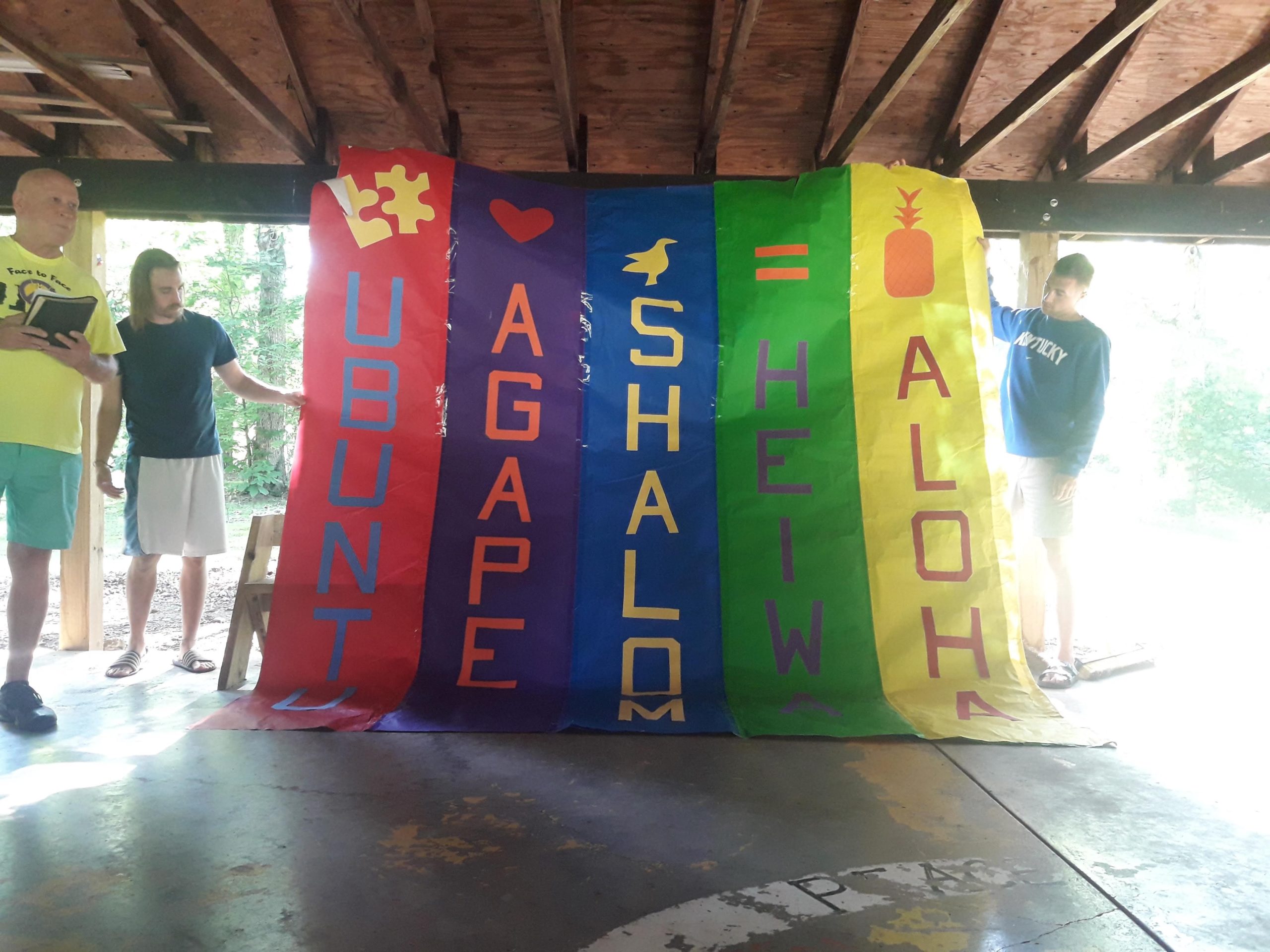 ______________________
Camp can be a little bit rowdy sometimes. Once the campers overcome first day jitters and begin making friends, counselors can find it difficult to get campers' attention.  The Pacific Southwest Region's Chi Rho Camp at Loch Leven had an attention grabbing moment the day after Independence Day.  A reported 7.1 earthquake centered hundreds of miles away in the desert was felt throughout Southern California, and as far as Las Vegas and Mexico.  Campers were in no immediate danger and no damage was done to camp facilities. Still, the campers, ages 11 to 13, said it was the largest earthquake they had ever felt.
The shaking occurred during the talent show while one of the campers was focused on his piano playing. After the shaking, he slowly turned to the audience and said, "did we just have an earthquake?", to the amusement of the camp.
Shaking and awaking young people to their potential to be peacemakers was the point of the Peace Works Camps at Loch Leven this year.  The daily themes of Aloha, Ubuntu, Shalom, Agape, Heiwa and Si se Puede, were accompanied by scripture, songs, stories, keynotes and activities.
There's no doubt that these themes, and the lessons learned, will remain with campers long after they've left camp.  One of twenty six values we discussed during our morning time together was inspiration, involving enthusiasm, motivation and drive. The camp curriculum inspired everyone – directors, coordinators, counselors and campers – to work for peace in fulfilling the two greatest commandments, to love God with all your heart, soul, mind and strength and to love your neighbor as yourself; and thereby, achieve Heiwa. – Paul Turner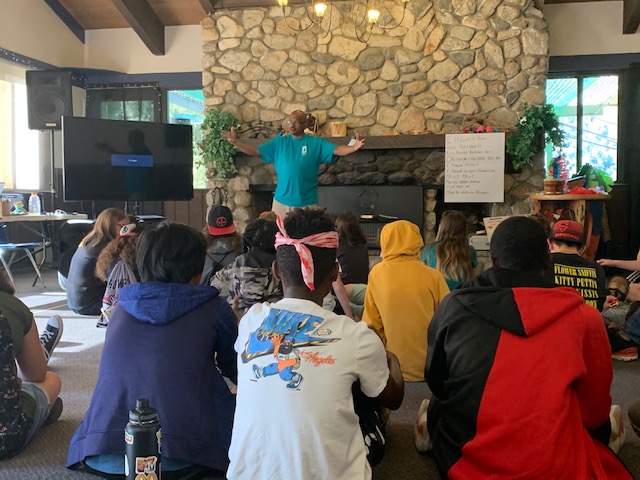 ______________________
This week we opened family camp at Moon Beach with song, including This Little Light of Mine in English and Yucatec Mayan (led by Yazmín). All week, in Bible study we reflected on the Beatitudes as well as Christ's call that we be salt and light. We talked about how Jesus was salt and light, how church can be salt and light and how we each can be salt and light to those around us. – Michael Joseph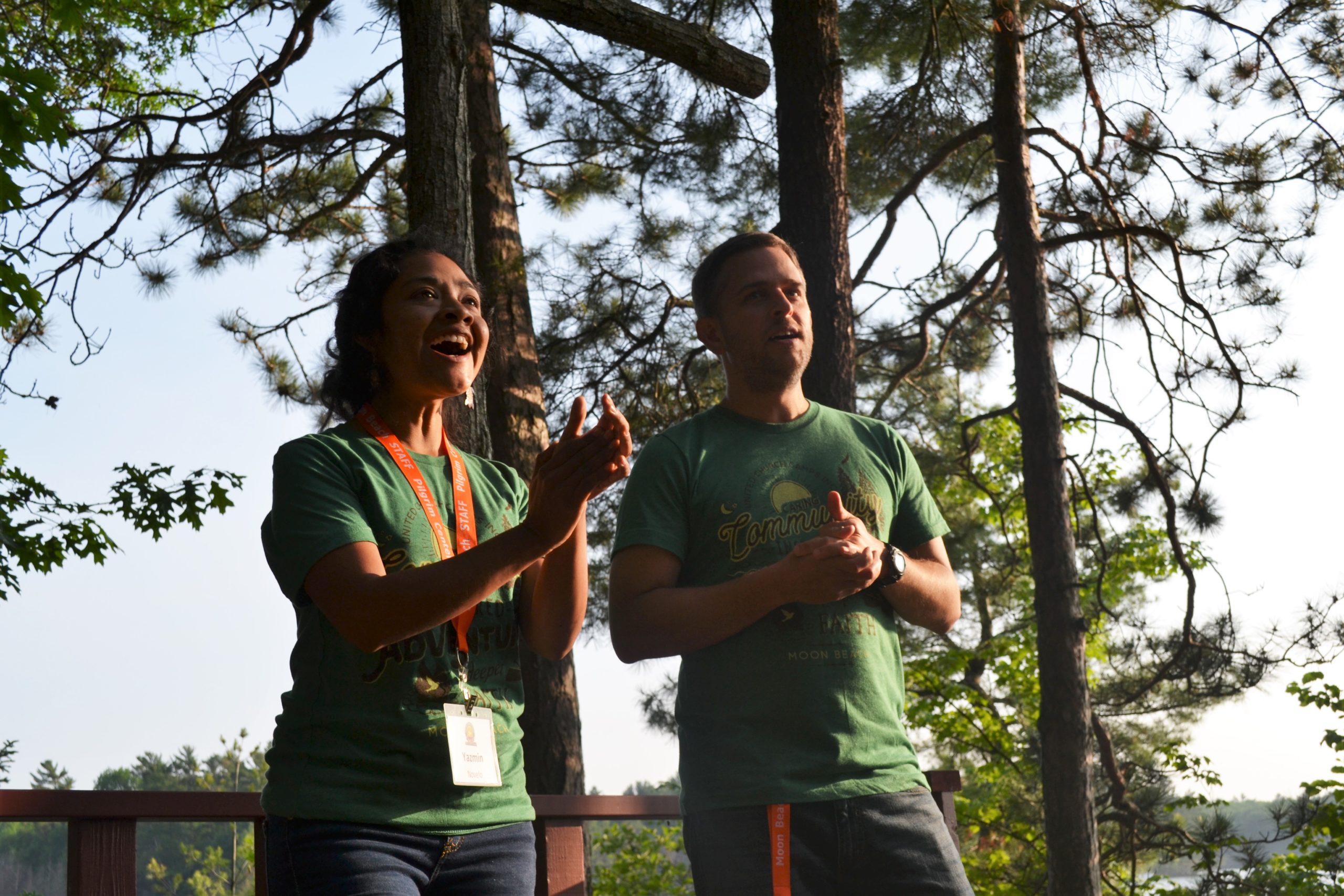 _______________________