What's Possible as a Global Mission Intern
The Global Mission Intern (GMI) program is an opportunity for young adults in the Christian Church (Disciples of Christ) and the United Church of Christ to serve internationally with global partners for one to three years. As you offer yourself in service, you will also learn more about yourself, your relationship with God, and some of the ways in which you can share in God's global mission. Applications are due by June 15, 2022 to Lorna Hernandez (lhernandez@dom.disciples.org).
Curious about what might be possible in a GMI placement? Hear from RJ Howard about his experience in Fiji.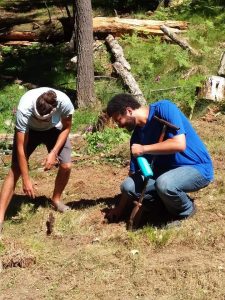 "I decided to apply to be a GMI after learning that I could potentially use my science degree in my place of service. Doing science and ministry sounded interesting.
So, that's what I expected when I was placed with the Pacific Conference of Churches (PCC) in Fiji – that I would get to do a lot of scientific work. While I did do science, it wasn't quite in the ways I expected. I ended up doing a lot more research and the scope of my work ended up being broader than I originally thought it would be. This ended up being a gift, though, as it showed me the many ways in which I could use my degree, and added so many more skills to my resume. Having these experiences has opened my mind to what's possible for me in my career going forward.
In Fiji, I received much more than I shared. I received friendship and accompaniment most of all, as members of the partner church walked with me and helped me to acclimate to the specifics of Fijian life. With their help and guidance, I felt confident and comfortable in going about daily life. I also appreciated the ways in which the partners shared their culture with me – including some delicious food! Gaining deeper experiences in communal living was also a gift to me. It is good to be a part of a community and to share and experience life together.
I think anyone could apply to be a GMI! As long as you're willing to be flexible and want to contribute to God's mission in the world, you'd make a great candidate. If you have passion to share, which most of us do, you'll have a great experience working alongside global partners. I am grateful for my experiences with the PCC and the lessons they shared with me that I now get to share with others."
Want to learn more?
Check out this video presentation from GMI Abi Hernandez
Check out this article by GMI Leda Zakarison
Information about the GMI Program
GMI Applications are due to Lorna Hernandez (lhernandez@dom.disciples.org) by June 15, 2022. Apply today!