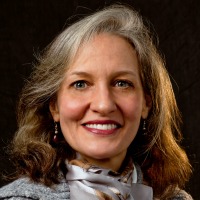 Sara Makari serves the Diyar Consortium in Israel/Palestine.
How would you describe the mission of our partner in Bethlehem?
Diyar Consortium is a Lutheran based, ecumenically oriented organization that expresses the outreach ministries of the Christmas Lutheran Church of Bethlehem, which is part of the ELCJHL.
The mission statement of the church reads: "Continuing Christ's Ministry of preaching, teaching and healing in His place of birth." As such, over the past two decades, the church, under the visionary leadership of its pastor, the Rev. Dr. Mitri Raheb, himself a Bethlehemite, has supported the establishment and development a broad spectrum of institutions, programs and activities, under the Diyar umbrella.
Diyar is the plural of the Arabic word "dar" that means "home," "house," "household," and "homeland." It is the equivalent of the Greek word "oikos," that suggests "community," "ecumenical," etc. Diyar Consortium serves the whole Palestinian community with an emphasis on children, youth and women. Contextual and holistic in nature, the organization's programs include education; leadership formation and development; civic engagement; identity reinforcement through art, culture, music, theater and dance, sports (especially for women); authentic tourism; book publishing and media productions. Founded in 1995 as the International Center of Bethlehem, Diyar launched Dar Al-Kalima University College for Arts and Culture in 2006, and regularly holds regional and international conferences. The Consortium serves several thousands of members and reaches more than 60,000 persons annually.
The vision of Diyar is: "That All May Have Life and Have It Abundantly."
The mission of Diyar is: "To build a country, stone by stone; to empower a community, person by person; to create institutions that give life in abundance."
How do you fit in their mission?
I serve as Editor of English Language Publications for Diyar Publishing, and engage significantly in ministries of hospitality in my home.
What let you to engage in this calling?
I grew up as a "missionary kid" in the Middle East, and have served as a long-term volunteer in a variety of ministries in the region. It was natural for me to return to the region for mission service.
Is there a passage of scripture that carries special meaning in your daily work?
"Since it is by God's mercy that we are engaged in this ministry, we do not lose heart…For we do not proclaim ourselves; we proclaim Jesus Christ as Lord and ourselves as your servants for Jesus' sake. For it is the God who said 'Let light shine out of darkness,' who has shone in our hearts to give the light of knowledge of the glory of God in the face of Jesus Christ. But we have this treasure in clay jars that this extraordinary power belongs to God and does not come from us…" (2 Corinthians 4: 1, 5-7).
What are some of the challenges facing the people of Palestine, our partner, or yourself?
The core challenge for my Palestinian friends is the chronic military occupation by the State of Israel, and all its ramifications: e.g., uprooting, displacement, emigration, loss of land and livelihood, dire economic necessity, unemployment, restriction of movement, shortages (and rationing) of basic necessities such as water, high import taxes of food items, clothing, electricity, heating fuel, etc.
As for the Christian partners, in particular, while sharing the same challenges of all Palestinians, they must continue to engage in non-violent resistance of the occupation, and continually resist being overcome by fatigue and despair. They work doubly hard to make their witness through sustaining their own and their neighbors' sense of hope. They resist Israel's systematic designs to erase their deeply-rooted identity and culture; and resent being played off against their Muslim neighbors. They are also challenged by the hegemony of empire, and read the Old Testament scripture with bewilderment, trying to make sense of it as God's Word for them.
On the West Bank, my own daily challenges are significant, but are miniscule compared to the largely-silent sufferings of my neighbors. I find myself troubled by a gross neglect of the environment ( which is a serious challenge to general health), noise pollution, chaotic traffic behavior and a broken-up road system, excessive fuel costs, limited availability and/or overpricing of healthful food items (this belies published cost-of-living indices). So many of these challenges are a direct or indirect result of, or reaction to, living under occupation – even in Area "A." However, I rejoice in my calling; I salute the fortitude and tenacity of hope of the people of this land; and dearly appreciate all that makes my living and serving here possible.
What is a lesson have you learned from our partner that you feel should be shared churches in the U.S.?
Throughout history, Palestine has lived under imperial occupation: by the Assyrians, Babylonians, Romans, Byzantines, the Crusaders, the Tatars, the Ottomans, the British and the Israelis. There is every reason for Palestinians to be pessimistic about the future. Yet, they never give up hope. In large measure, this has been the continuing influence of the Christian community since the resurrection of our Lord, and Pentecost. The various ministries of the specific partner with whom I serve are summarized in these, its own words: "What we do today is Hope!"
What books have influenced your understanding of your country, work, or theology?
[The following books have been helpful to Victor and myself]
Contextual:
Regional:
Biblical & Theological:
Books in Arabic:
Mitri Raheb, ed.: الدين والدولة: اللاهوت والمرأة والإعلام (Religion and State: Theology, Women and the Media)
Mitri Raheb, et al: الربيع العربي ومسيحيو الشرق الأوسط (The Arab Spring and Middle East Christians)
Mitri Raheb: المسيحيون العرب وقضايا الأمة (Arab Christians and National Issues)
Her appointment is made possible by your gifts to Disciples Mission Fund, Our Church's Wider Mission, and your special gifts.
Make a gift that supports the work of Sara Makari
More from Sara Makari