Pray with the Philippines, May 16, 2021
Lectionary Selection: John 17:6-19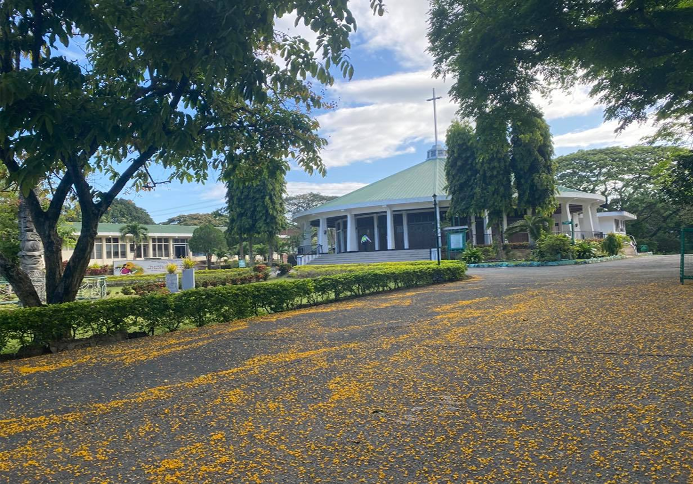 Prayers for the Philippines
Again, we call upon You God of Life, Love, Compassion, and Hope. Again, we bring to you our broken hearts, our anguished cries, and our hopes teetering on the edge of despair in the face of the relentless assault by the forces of death and destruction. Where are you, O God? Have you turned a deaf ear to the cries and agonies of your people? Have you forsaken us?
You said, God of steadfast Love, that you are close to us as we are to our breath, for you are the breath that we breathe. Yet, we are choking and almost out of breath. Many of us are already expiring before our time.
Loving and Compassionate One, we are facing social and natural storms on every side. The Coronavirus pandemic is compounding our already miserable lives, which is intertwined with our economic and political life. The tears of Your people, especially the least, are flooding on the streets of our cities and barrios, sometimes indistinguishable from the blood of the victims of extra-judicial killings.
Help us to feel, hear, and see Your reassuring and compassionate presence in these trying times of ours.
These past few months have been difficult, especially for Your people in the Philippines, with lawlessness and impunity running amok. Time and again we have witnessed how wielders of power, both state and powerful elites, use whatever power is at their disposal, to block or silence the message they do not want to hear. If silencing the message is not enough, they go after and silence the messenger.
God of Life, of thunder and storms, of rushing waves and flooding rivers, empower us to muster courage and nourish us with your refreshing rain in our land of spiritual drought.
You know, God of Hope, that it's difficult to live in hope when our day-to-day lives are saturated by events that make a mockery of our hopes and dreams. When dreams are constantly betrayed, the ground becomes fertile for cynicism and despair.
We pray, God of life, that you rekindle our hopes so that we may remain steadfast in faith and hope to actively give our lives in helping usher a new and better tomorrow for our crying land.
Mission Stewardship Moment from the Philippines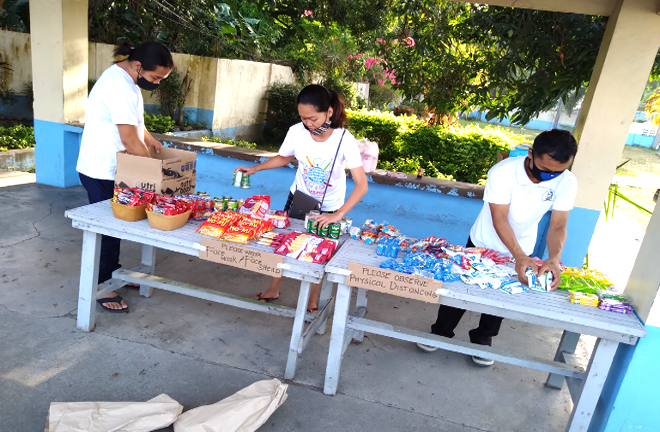 UTS Joins Community Food Pantry Initiative
"Magbigay ayon sa kakayahan, kumuha batay sa pangangailangan." (Give what you can, take what you need). This is what you can read in the many community food pantries initiative that are emerging in the Philippines in the past few weeks.
It started with the Maginhawa Community Pantry, Quezon City, Philippines, and the initiative went viral and has spread like wildfire with more community food pantries in various parts of the country joining the initiative. As of this writing, there have been about four hundred community food pantries in the country. Many churches have joined the initiative, and this is true of Union Theological Seminary as well.
This community initiative is a response to the challenge of poverty and hunger of the economically and politically beleaguered country. With COVID-19 infections spiking and more restrictive measures (quarantine and protracted lockdown) carried out, the country's economy is experiencing recession and many have lost their jobs, the weight of which has fallen on the most vulnerable. But rather than wait for the government aid, which is hardly enough for a couple of days of meals, people have taken the initiative to help each other, and the community response has been amazing.
The community food pantries, of course, will not solve the poverty and hunger problems in the Philippines but, at least, there is something that can help poor families get through the next day. Moreover, it demonstrates the care, compassion, and generosity of the people in the face of adversities.
Not surprisingly, in a country that has become more authoritarian and in the business of red-tagging (label for those considered leftists [communists] or left-leaning), even an act of goodwill, such as the community food pantry, is not free from being labeled as leftist-inspired or communist front. That's the sad situation of the Philippines.
Yet, the people, including our churches, have persisted and continued to demonstrate the love of Christ.
Prayer and Mission Moment by Eleazar Fernandez
Mission Partners in the Philippines
Global Mission Co-Worker in the Philippines
Eleazar Fernandez serves with the United Church of Christ in the Philippines. His appointment is made possible by your gifts to Disciples Mission Fund, Our Church's Wider Mission, and your special gifts. Make a gift that supports the work of Eleazar Fernandez