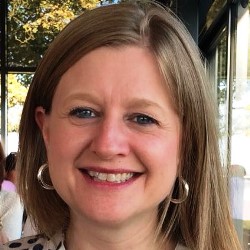 Fiona Kendall serves with Mediterranean Hope, Italy.
How would you describe the mission of our partner in Italy?
The FCEI is a non-profit organisation comprising churches and church unions bound by a common vocation of witness and service. Relevant to the creation of the Mediterranean Hope program are the FCEI's commitments to justice and peace, to ecumenical and interfaith dialogue, to fundamental rights of freedom and equality, and to working for the benefit of those who are marginalized.
The Mediterranean Hope (MH) program for refugees and migrants was created in early 2014 in response to the surge in numbers seeking to reach Europe by undertaking dangerous crossings in the Mediterranean Sea. Since installing the "Observatory on Migration" on Lampedusa, a tiny transit island off the coast of Africa, the program has grown considerably in scope and scale. In addition to ongoing work on Lampedusa, MH now manages two reception centres for migrants on Sicily. The Casa delle Culture in Scicli houses forty of the most vulnerable migrants, whilst the Casa dei Mirti in Palermo houses fifteen young men, who came to Europe as unaccompanied minors. From Rome, MH co-ordinates the ecumenical humanitarian corridors project. This pioneering initiative brings migrants safely and legally into Europe. Support for participants does not end with their arrival: sustained help is offered over a period of up to two years, the focus being on meaningful integration into local communities. The original corrider from Lebanon to Italy has spawned legacy corridors to France, Belgium, and Andorra, and from Ethiopia and MH is currently lobbying for a new corridor from Libya. Within the last year, MH has provided concrete support to search and rescue (SAR) missions in the Mediterranean Sea, working in collaboration with Proactiva Open Arms and Pilotes Volontaires. MH continues to tailor its response to meet current needs, always using the Gospel to test whether it is appropriate to pursue a particular project.
How do you fit into their mission?
I have been seconded to work in the Mediterranean Hope project as their European and Legal Affairs Advisor. This is essentially an advocacy role in which I represent the organization and lobby for constructive approaches to migration. This requires me to keep abreast of European migration policy, to network with other organizations and policy-makers in this field, to draft papers and to deliver presentations at conferences and meetings within Italy and beyond. I am also involved in working with our press office to counter the anti-migration rhetoric which is so prevalent in society today.
What led you to engage in this calling?
I have had an increasing sense of call to work on behalf of the marginalized as the years have gone on. Latterly, I was able to find some outlet for this as a volunteer for organization working with destitute asylum seekers in the north of England but felt strongly that this was not enough.
As a family lawyer and mediator, I was engaged for over twenty years in seeking constructive approaches to difficult problems which affect people's daily lives. Using words well has been an important part of my work, whether as an advocate, as a mediator, in providing legal training to my peers or in creating an act of worship in my work as a lay preacher. As someone who is curious by nature and genuinely interested in other people, it is a pleasure for me to build relationships with others.
It has therefore been a delight to me to discover that these diverse aspects of my work and personality have now found a home in a project which is working directly to benefit one of the most marginalized groups in the world.
Is there a passage of scripture that carries special meaning in your daily work?
Matthew 25.35:
"For I was hungry and you gave me something to eat, I was thirsty and you gave me something to drink, I was a stranger and you invited me in…"
What are some of the challenges facing the people of Italy, our partner, or yourself?
The situation in Italy is complex. Italy welcomed migrants in vast numbers for many years before resentment started to build. The EU's failure to execute an effective policy to manage migration, or to ensure that responsibility for migrants be fairly shared across member states, has added to the feeling that Italy has been abandoned. Economic difficulty has exacerbated the feeling that country is overwhelmed. These fears and resentments have, sadly, been stoked by populists and nationalists.
This context creates particular challenges for MH. Initiatives which might have been widely supported five years ago might now be viewed with skepticism and, indeed, hostility. Government policy may be in direct opposition to action which we consider to be necessary e.g. SAR operations in the Mediterranean Sea. Interestingly, however, the difficult context appears to act as a spur to MH staff who, if anything, are all the more determined to work for the benefit of migrants and to do that work well.
What is a lesson you have learned from our partner that you feel should be shared with churches in the U.S.?
The work that the FCEI does tells the story of its Gospel commitment. However, the FCEI does not take for granted that observers will make the connection and it consistently re-affirms what it is that underpins its work. The development of the "Welcome Manifesto" this summer is a clear example of this. It emphasizes for the world at large the Gospel call to welcome the stranger, points directly to the biblical foundation, and seeks to apply this to the contemporary situation. At a time when the messages which society hears about how we should live are, at best, confused, this seems to me to be particularly important.
Faith-based organizations are often focused either on "good works" or on theology. The experience of working with the FCEI has taught me the importance of doing both and, in so doing, providing a concrete example to the world of what it means to be Christian.
Blog link: https://romanlens.wordpress.com (also posted on the Church of Scotland's World Mission Council blog at https://cofswmc.wordpress.com)
Twitter: @FionaKMedHope
Her appointment is made possible by your gifts to Disciples Mission Fund, Our Church's Wider Mission, and your special gifts.
Make a gift that supports the work of Fiona Kendall
More from Fiona Kendall