Pray with Israel/Palestine, September 18, 2022
Lectionary Selection: 1 Timothy 2:1-7
World Week for peace in Palestine and Israel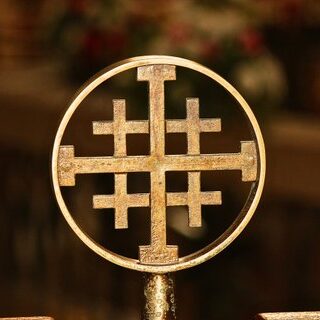 Prayers for Palestine
Dear heavenly Father, in your Son, Jesus, you promised us to seek and we shall find, to ask and we shall be given, so we are bold to ask that it may be given. We pray that your Spirit may exercise your power to change the hearts and minds of political leaders in Israel and Palestine, that they may have the will and find the way to lead their citizens to work for an end to the Occupation so that both Israelis and Palestinians may live in peace, freedom, and equality. May they be granted the grace to lay aside the bitterness and injuries of the present and the past to forge a new beginning for all.
Continue to show us ways to pursue justice, to oppose oppression, and to uphold truth.
In the name of your Son, Jesus, Amen.
Mission Stewardship Moment from Palestine
Writing this "Moment for Mission" has become, for me, a time of focused personal reflection on my sense of calling and how I personally fit in our greater calling as God's people in this time and place. More than ever before, I am keenly aware that despite whatever limitations I have, God is not finished with me yet.
My recent stroke, a little more than a year and a half ago, has deepened within me an urgency to examine my sense of calling, given the significant limitations it has caused.
Despite these limitations, there is still work to be done.
To that end, I have been critically examining my sense of calling within God's larger scheme of the mission of the Church. The world is immersed in sin and evil. Greed is rampant; wars are raging in numerous places; political and military occupation is entrenched in Palestine; a major war is being fought in Europe; there is conflict, tension, and uncertainty; hunger and extreme poverty; fear and anxiety abound. I look around and ask: Where is God in all this?
And yet …
I pause and give thanks that God is not finished with His work in creation and renewal because this is God's world, and we are here as His hands and feet and eyes and heart. I am called to pursue justice, to show mercy and to walk humbly, called to resist evil, to speak truth, to give sacrificially, and to live out the Gospel.
In today's scripture reading, we are given the assurance that:
God has done everything necessary for our salvation and that of the world;
God invites us to accept the free gift offered to us in Christ;
In accepting the gift, we are allowed to live a quiet and godly life;
In exercising the gift, we are given grace to be co-workers with Christ; and
In treasuring the gift, we are granted inner peace.
Prayer and Mission Moment by Victor Makari
Mission Partners in Israel/Palestine
Global Ministries Mission Co-worker in Palestine:
Rev. Victor Makari serves the Diyar Consortium in Israel/Palestine. His appointment is made possible by your gifts to Disciples Mission Fund, Our Church's Wider Mission, and your special gifts.
Make a gift that supports the work of Victor Makari